Benefits of an Induction Cooktop
by Guest on Mar 29, 2011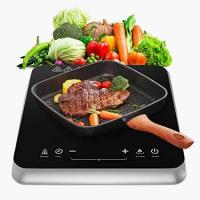 Advances in technology are constantly leading to new appliances, and cooktops are no different.  For years, cooktops came in two different varieties: electric cooktops or gas cooktops.  However, a recent development has led to a third type of cooktop that uses induction heating. These induction cooktops are becoming increasingly popular among certain users with particular needs, especially if the users are using their cooktops multiple times a day. To these users, other cooktops may not suffice; they need cooktops that will satisfy their needs and help them get the most out of their experience with their cooktops.
The basic principle of induction cooktops is that the heat is generated directly in the cooking vessel, unlike other cooktops where heat is generated externally via electricity or gas.  Cooktops that use induction heating require a pot or pan that is made of a ferromagnetic metal, so that the magnetic field generated by the induction cooktops can heat the cooking vessel.  This unique technology allows these cooktops to sense how much energy is being absorbed by the food, and thereby gives these cooktops the ability to self-regulate the temperature to maintain a steady boil, or even shut off on their own when the pan is removed from the cooking surface.  Innovations like these appeal to users looking for unique cooktops that provide perks that other cooktops may lack, such as self-regulating temperature controls and auto shut-off.
Induction cooktops have several advantages over other cooktops.  One of the primary reasons people favor cooktops that utilize this new technology is that it is the most energy-efficient of all cooktops currently available.  Because of the increasing costs of energy and concern for the environment, people are more conscious of the energy usage of their appliances.  Since cooktops are one of the most frequent consumers of energy in a kitchen, cooktops are a prime candidate for saving energy and money.
Another reason that people are purchasing induction cooktops is for safety considerations.  Most people have likely experienced burns caused by hot cooktops, and are likely willing to purchase cooktops that help prevent a repeat of that unpleasant experience.  With induction, a major benefit is that the heat is generated directly in the pot or pan, and not on the cooktop itself.  This is because such cooktops use an alternating current which produces a magnetic field, which in turn interacts with the ferromagnetic cooking vessel to produce a current through the cooking vessel, thereby heating the food.  This aspect of induction cooktops is the reason why the cooktops present a significantly lower risk of getting burned, making for happier chefs.
Despite being a relatively new technological innovation, cooktops using induction heating are becoming increasingly popular because of some of their unique benefits not found in other cooktops.  For instance, if you are tired of cooktops that present a big risk of getting burned, or are looking to save money by reducing energy usage, these innovative cooktops are for you.  So, next time you consider remodeling your kitchen or upgrading appliances, consider induction cooktops.