Why Cooktops are So Convenient
by Guest on Mar 29, 2011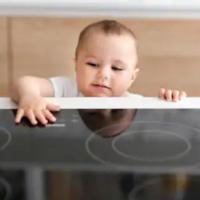 If you are remodeling your kitchen, or if you want to replace some of your cooking hardware, cooktops provide a very convenient solution.  In order to understand why cooktops are so convenient, let's go over some of the main components and reasons that make cooktops a great solution.
Cooktops are one alternative to a traditional gas or range oven.  A traditional range stove has electric burners that are attached to the oven.  Cooktops simply separate the stove from the oven as the cooktops can be installed literally anywhere along your countertops.  One reason why cooktops exist is that they give you the ability to add more stove ranges to be able to cook more food at one time.  The ability to install cooktops anywhere on your countertops also gives you more freedom when it comes to the design and functionality of your kitchen.   Cooktops are also very designer friendly as cooktops can give your kitchen a unique look that can help to set it apart from traditional kitchens.
If you cook commercially, cooktops can be paired together to give you the ability to cook large quantities of food without having to buy several traditional stove/oven units.  If you use larger commercial ovens, cooktops are also a great solution as you can keep the stove separated from the oven in order to cook the large quantities of food that you require with ease.  
Another reason why cooktops can offer convenience is that they come in two main types.  Cooktops can be electric ranges, or they can operate off of natural gas.  Having these two types of cooktops available can help you to pick the cooktops that match your cooking preference as well.  Whether you have a commercial style kitchen or a traditional style kitchen, you could even install both types of cooktops to give you the best of both worlds when it comes to cooking preferences.
Cooktops come in many different styles and colors in order to match your kitchen style.  Cooktops also have easy to use knobs and buttons to be able to provide you with an easy format to cook the food that you love.  Cooktops also come in different sizes as some kitchen designs and layouts will allow for specifically sized cooktops to be installed.  Cooktops can come with many different features such as timers, sensors, etc.  Doing a little bit of research on cooktops will allow you to be able to determine the features that you need and want on the cooktops that you want to purchase.
Cooktops also are convenient as cooktops are easy to clean.  Cooktops are usually spread out a little bit more than a traditional range, which can make the cleaning of cooktops simple and easy.  Some cooktops also have some removable parts to make the cleaning of cooktops possible through using a dishwasher.    As you can see, cooktops offer a convenient solution to those that want to add cooking hardware, or who are remodeling their kitchen.  Different types of cooktops, as well as cooktops that are sized differently can make cooktops a great solution for someone who is looking for cooking convenience.