French Door Refrigerator Purchasing Guide
by Guest Post on Mar 29, 2011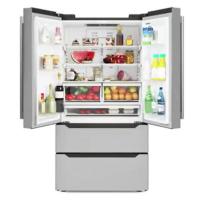 Purchasing French door refrigerators doesn't have to involve a lot of guesswork. If you do the research beforehand and know what the buying options are, purchasing French door refrigerators can be simple. There are many different types of refrigerators on the market, and many different functions and options available for the private consumer. One of the most popular types of refrigerators on the market right now is the French door refrigerator. Named for the popular type of double swinging door style, French door refrigerators make an elegant and efficient addition to any home or commercial kitchen.
There are so many different types of French door refrigerators on the current market that no matter what your refrigerator needs, you can find something that will fill it. Whether you're looking for a refrigerator with a larger capacity for more storage or a refrigerator that has larger freezer capacity, an energy-saving refrigerator, or simply a refrigerator that doesn't take up a lot of space, there are French door refrigerators out there that can fill your need. Many French door refrigerators also come with extra features, such as an in the door ice maker, a filtered cold water dispenser, or an alarm that signals when you've forgotten to close the refrigerator or freezer door all the way. Many of these extras have become standard in today's market and are available at no additional cost, or a very nominal extra cost on your French door refrigerators. Before you purchase, know what options you are looking for, and be sure to ask your sales associate about the different types of options available in the French door refrigerators that you are looking for.
French door refrigerators are also known as double door refrigerators or bottom freezer mount refrigerators. Because of its unique design, including a double door opening and a pull-out drawer for your freezer, the French door refrigerator has become a staple in many modern homes and kitchens. French door refrigerators combine all the conveniences of a bottom freezer by adding larger freezer space and divided freezer sections with the efficiencies of the side-by-side double door refrigerator. One of the major benefits of the side-by-side double doors on the French door refrigerator is that it easily accommodates the extra inclusion of ice makers and filtered cold water dispensers built right into the door.
One of the other major advantages to purchasing French door refrigerators is that there are a lot of manufacturers who are currently producing this type of model. Because of the wide variety of makes and models in the French door refrigerator style, you are virtually guaranteed to find one that meets the needs of your kitchen, while helping you keep your budget in the black. The French door refrigerator is known for its long-lasting durability and energy-efficiency, as well as its long listing of additional features and special amenities that can help you make your kitchen more efficient. Take the time to do some research and find a refrigerator model that will meet all of your specific needs.