Installing a Kitchen Backsplash - Part I: Choosing Tile
by Guest on Feb 8, 2011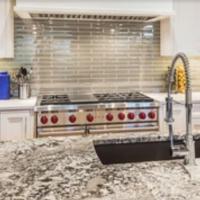 Part 2: https://www.411homerepair.com/diy/kitchen-bath/6444-installing-a-kitchen-backsplash-part-ii-planning-and-preparation.html
A tile backsplash makes a beautiful focal point that adds interest and style to a kitchen while making cleanup easier. The abundance of tile options available allows homeowners to personalize their kitchen backsplashes to accommodate unique preferences. While a kitchen backsplash certainly presents the opportunity for limitless creative freedom, most homeowners choose a backsplash style that is neutral enough to be appealing to future home buyers.
Here are a few considerations for choosing tile for a kitchen backsplash:
Textures and colors in the kitchen and throughout the home. Incorporating consistent styles throughout a home establishes flow and contributes to a quality overall aesthetic. If the majority of the home utilizes neutral tones and stone textures, you may want to incorporate a similar style into the kitchen backsplash to keep the style consistent. Likewise, a modern glass tile backsplash may be better suited for a home with other elements of modern style and architecture. As with other home improvement projects, a kitchen backsplash should fit seamlessly with the aesthetic of the home.
Maintenance is associated with different types of tile and grout. As you shop for tile, keep in mind that some tile requires more maintenance than other types. For instance, porous tiles such as those made of natural stone will need to be sealed and periodically resealed. Be sure to read all manufacturer recommendations for any tile you are considering installing in your home to be sure that it fits with your expectations for maintaining it.
Color and texture of the tile. The colors and finishes of the tile are practically endless. A kitchen backsplash in a vibrant color can make a bold statement, and one with neutral tones can create an understated, elegant look. While the color and texture of your backsplash are a personal preference, remember to consider whether you intend to sell the home someday and what future buyers would prefer. If you want to add color but do not want to make the backsplash too personal, you may consider installing a neutral toned backsplash and achieve a bold look through a vibrant wall color, which can be easily changed later. Remember that a tile backsplash should complement the other elements in the kitchen such as the cabinets, countertops, and floors.
Once you have chosen the tile and grout that is best suited for your needs and preferences, careful planning is in order before the backsplash can be installed. In Part II we examine some of the steps involved with preparing to install a kitchen backsplash.
Maria Polidoro is the owner of Ace Tool Online, a leading dealer and service center for hand and power tools offering over 70 major brands. Please visit Ace Tool Online to find the right Festool router, sander, or saw as well as tools from 70+ other brands.