How to Make Your Bedroom a Calming Oasis
by Guest Post on Jul 31, 2018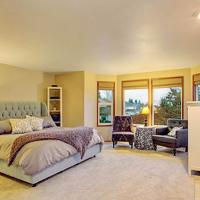 The average human spends at least a third of their life in their bedroom—and that's just for slumber. For many of us, the bedroom is the safe haven we run to at the end of a stressful day: a place for Netflix marathons, hours spent reading, and meditation. A comfortable bedroom can make all the difference in your sleeping and waking hours. Consider incorporating some of these features and transform your master bedroom into a peace-promoting space.
When it Comes to the Bed
Of course, the most central part and focal point of the room is one's bed. It anchors the room and sets the tone and mood for the rest of your decor. A solid bed with ample pillows and comfy covers is the starting point of a well-designed room—so make sure you're starting off on the right foot. If you're going to invest in anything for your bedroom, make sure it's your bedding. Choose calming colors and sumptuous materials that are soft to the touch. Shop for a luxury king or queen bedding and make an investment in your sleep—buttery soft sheets and cozy comforters can make all the difference.
Choosing Colors Strategically
Light, soft colors are calming and promote relaxation; in contrast, bright colors bring energy into space—probably not ideal for your bedroom. Blue symbolizes tranquility, as does light pink. Lighter purples or greens can create a sense of calm as well.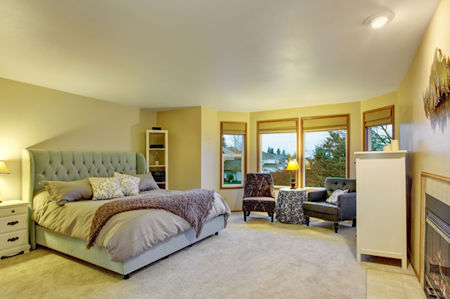 Consider Your Artwork
Pictures and paintings can add to the ambiance of a bedroom. A few meaningful photos or posters can unite the room and give it structure. However, when the number of paintings increases past a balanced few, the room starts to feel cluttered and disorganized. Choose your artwork carefully and select those photos that bring you a sense of peace and calm.
Infuse Nature into Your Sleeping Space
Flowers and plants can rejuvenate your living space with growth and life. Plants create good energy and help improve the air quality of a space. However, the benefits don't stop there. According to Anthropologie's "How to Arrange the Perfect Bedroom", plants can also increase alertness, reduce stress, and stabilize heart rates and blood pressure.
Fresh flowers also add a nice touch to one's room, whether they be placed on a nightstand or desk. A rotation of beautiful blooms may also provide just the right amount of change to refresh the room.
Purchase a Diffuser
 
Diffusers can help reduce stress and promote peace through scent. A diffuser spreads welcome fragrances through the dispersion of essential oil throughout the room. The convenient timer allows you to turn on the diffuser and set the amount of time that it will emit the vapor—meaning you can fall asleep to it without it running all night.
Keep Your Room Clean
The cleaner and more organized your room is, the calmer and more put together you'll feel. Make sure you have a place for everything—and put everything in its place. If you need help keeping your room spick and span, hire Merry Maids to come once a week or twice a month. This small investment can do wonders for your psyche and keep your entire house (not just the bedroom) clean and fresh.  
Dreamcatchers
Dreamcatchers can soothe that inner child in all of us that still worries about monsters under the bed. Through the simple sight of it before falling asleep, we can be more reassured and more confident that bad dreams won't plague us. Plus, the design of a dream web can subtly accentuate a room.
Make your bedroom more calming than ever with these simple strategies and turn your sleeping place into a modern oasis you'll rush to come home to.