How to Decorate a Kid's Room
by Guest on Nov 13, 2011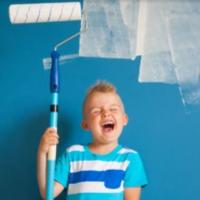 Decorating a kid's room is one of the most exciting projects you could ever undertake. You'll have to get ready, however, to fire up your creative juices and get prepared for a real adventure! Once it's complete you'll be able to see a remarkable change and know that you have accomplished something and have gotten a product. Plus - your children will love you for it!
Where oh where to start decorating a kid's room?
This is the most difficult phase of the whole process. Do you think you have the decorating flair necessary to pull off a project like this? If you have done similar projects in the past you may have just what it takes. If not, you can find some photos of rooms you can copy in designer books or on the Internet. You can even modify the looks to fit your style better when needed.
As a last resort, you can always call in a professional, but that is usually not necessary. If you can find another room that you'd like to copy there's nothing that is stopping you!
So - what next?
Set up a budget and a mindset that you will stick to it no matter what. There is no use in setting up a budget if you are not determined to follow it to a tee.
Next, you'll need to get a grasp of the few basics you'll need to cover first. Get these put in place first before going on to the next step.
What colors do you want to work with?
Can you afford new furniture or do you need to work with what you already have?
If two or more children share the same room do you want singles or bunk beds?
Will the flooring change?
Will you need to repaint the room?
At this point take another look at your budget. One thing to keep in mind is that kid bunk beds usually cost less than 2 singles. Also, furniture can be refinished or repainted to cut down on costs.
Putting it all together
This is the point where a good fashion sense will come into play. A room can appear too empty or too busy by making only one mistake. Try to draw out your room on paper and don't be afraid to pull out your children's coloring pencils to get a real feel for the colors and how they work together. If you are working with a photo from the Internet or magazine, consider the shape of the room and whether the look in the photo would fit into your room's dimensions. Work with your plans and modify them until you have the certainty that the final product will be an amazing masterpiece!
Time for action!
It's time to start shopping for supplies, accessories, and new furniture if necessary. The Internet is the first place to start, especially if you are on a tight budget or don't have the time to run from store to store. You can even order large pieces of furniture like kids' bunk beds or dressers online and have them delivered to your door. You can also find fun accessories in the right colors and styles. Of course, you can still get these things at local stores, but your selection will be more limited.
Supplies like paint should be purchased in a home renovation store in person so that you can go through the color samples to find the right color. Wallpaper should also be selected carefully to make sure it matches the paint samples perfectly.
These steps will lead you to an exciting new kid's bedroom. Start looking at some of the stunning designs that are featured on the Internet and see for yourself how unlimited your options are!