How to Keep a Vegan Restaurant Clean
by Guest Post on Oct 5, 2019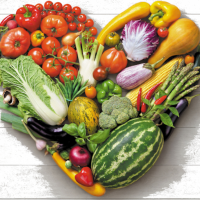 Aside from keeping their food clean and free from any animal products, vegans also keep their food preparations and stations clean. Hood cleaning companies are essential for keeping your restaurant clean. Abiding by their mission of living, a plant-based diet and refusing to use animals as a commodity, it is no surprise that vegans also appreciate a clean and green environment. This principle and dedication to keeping things clean and free of violence can be seen in many aspects of their day-to-day living, including restaurant dining.
Cleaning vegan restaurants requires great attention to detail not only in sweeping away dirt but also when it comes to using the right products and following ethical procedures.
Use Vegan Cleaning Products
If you are not sure if your usual cleaning products were not tested on animals, cop products that are packaged as cruelty-free instead. Most products sold in the market can still be tested on animals or has ingredients that were individually tested on animals, but it pays to look for each aisle or better yet, order bulk from online. If you wish to go all-natural, you may get your trusty bottle of vinegar or lemon and add parts of water in a container and use it to clean off your tabletops, mirrors, and the like.
Vegan Dishwashers
Aside from cleaning products you can use for the kitchen or dining floors, it is also important to thoroughly clean your utensils with vegan products. After all, any restaurant is required to keep its utensils sanitary and safe to use. Fortunately, vegan dishwashing tablets and rinse aids are available to keep chemicals off your plates and forks.
Baking Soda for the Air
Instead of using aerosols and spray disinfectants that may fall on the food or harm insects and small animals around, use baking soda (and its recipes) to remove smells from your refrigerator or carpets. Do not forget to vacuum off these soda sprinkles on your carpets or linen.
Keep Your Area and Equipment Clean
You can employ all the green efforts you can find to clean your kitchen or restaurant but there may be tough stains, odors, or thick residue in your hoods, vents, and ovens that may be challenging to clean by yourself. You can find it best to hire a restaurant hood cleaning company that specializes in thorough cleaning. San Diego is a hub for vegan restaurants. If you are looking for a hood cleaning company, there are many great ones out there. You may request them to use eco-friendly and vegan cleaning products, too. This saves you time and effort allowing you to do more.