5 Home Maintenance Tasks for Waterfront Homes
by Tammy Emineth on Oct 24, 2019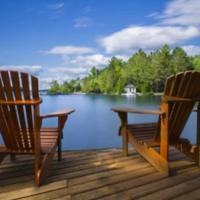 If you own a waterfront or lakefront home or you're considering buying a home that's on the water, there are additional home maintenance tasks you need to consider.
Here are five tips to know about the maintenance of waterfront property.
#1. Humidity.
In the winter, humidity tends to be low and the air is surprisingly dry near a lake or the waterfront. In the summer, humidity can be high so controlling the humidity in your home when you own a waterfront property can prevent mold, dust mites, and deterioration of drywall, paint, and your personal belongings. Consider investing in a humidifier to use during the winter. Run your air conditioning in the summer and open attic vents to the outside whenever possible. Don't forget to run bathroom and kitchen exhaust fans when cooking or bathing and clear the dust frequently from fans and vents.
#2. Lake effect.
Those that live on large lakes may have to deal with the Lake effect. The Lake effect is snow that forms in the winter when cold air masses move over warmer lake waters. Waterfront homes on larger lakes like Lake Michigan and Lake Superior are the most susceptible to the Lake effect issues but even smaller lakes can have this phenomenon happen. To avoid the Lake effect issues, store outside furniture and as much as possible inside either in a shed, garages, or outbuildings. Insulate water pipes and let cool water run to avoid freezing in the pipes. Make sure everyone in your household knows how to shut off the water if the pipes burst. Cutaway tree branches before winter that could snap and land on your home and continually keep the driveway, sidewalks, and stairs as clear as possible between snowfalls.
#3. Erosion.
Depending on how close to the water the home sits, erosion may be an issue. Runoff may also be an issue which is the portion of rain and snow that falls on the surface of the earth that doesn't soak directly into the soil. This will flow into lakes and streams and over time cause erosion, which is the wearing away or loss of soil, sand, and dirt. You may need professional assistance if your home sits on a greater than 20% slope, there are more than 20,000 ft.² of trees and foliage that's been cleared recently, more than 2 acres drain to an eroded area or there's severe gully erosion in the area.
#4. Wind.
One of the best things about living on the waterfront is the gentle breezes, beautiful sunsets, and view but that wind can be relentless during some of the fall and summer months. To keep your home protected from the effects of harsh wind make sure to install stronger insulation in walls and windows. Check your roof often for loose shingles and replace them whenever necessary. Upgrade to heavy-duty bolts on doors and reinforce your garage door. Most people don't even realize that the garage door is one of the weakest spots in a home. If too much wind takes out the garage door it can create a lifting effect and literally lift your roof directly off your home.
#5. Sand.
Living on the beach can be wonderful but sand can be a bit of a nuisance. Not only do pets and people track sand and credit throughout the house but it can cause wear and tear on vegetation, outdoor furnishings, sidewalks, and driveways. Make sure you keep outdoor furniture and grills covered when not in use and store them in the off-season. Consider placing a bucket of water near the front door for kids and pets to dip their feet in, dry off, or at the very least, a towel to brush off the dry sand. Change your flooring to more hardwood, tile, or laminate rather than carpet or build a mudroom designated specifically for getting the sand off the bottoms of your feet and try not to wear your shoes throughout the house.
Living on the waterfront is definitely a privilege and your own little slice of paradise but understanding maintenance that has to go along with lakefront or waterfront property will guarantee that you'll love your home for years to come