Outdoor Renovation 101
by Vicky Layton on Jul 18, 2018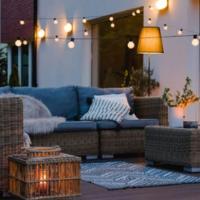 Reshaping an entire outdoor space is a very challenging process, especially during summer, when you're supposed to spend a lot of time enjoying the hot weather. In order to have a great looking garden, especially if you have a very small space, the most important things you must do are related to space optimization and decorations. Let's break this down in a simpler way. 
Luxury Furniture Is The Key
In order to better understand this part, we must take what it's now renowned as "The LA Effect": a minimally treated green area is close to another one which is usually where all the furniture is. Every experienced designer knows that a simple approach to furniture is a winning point, especially when planning an outdoor area. To do so, your outdoor living furniture should be respecting this mantra, so no exaggerations are allowed. 
Accessories: Style, But Also Practicality 
Having a glass sculpture in your garden would be absolutely amazing if you're a multi-millionaire, but the cliche level would also peak at its maximum. Accessorizing your outdoors could be done by cleverly placing something like a minibar or a simple mini fridge, which first of all will set the mood for your summer parties and, most of all will give your renovated outdoor space a touch of style.
Lights Are Also Important
Summer is that weird season in which you're inviting your friends over for a couple of drinks at 7 pm to then having the most random chats at 4 am. Since no one wants to stay in the dark while enjoying his drink, a great tip would be buying LEDs for your garden/outdoor, in order to always have the right amount of light. 
If You Have Kids
Restyling an outdoor space is complicated if you have kids: first of all, you should avoid leaving sharp-edged objects around (especially if you have decorations) and you should always leave them space to run and play since summer is the season. Try and plan your outdoors in order to separate their area from yours. This way, your entire space will look organized and clean. 
To Conclude
As said above, sometimes a simple space optimization will do the job. If you're planning on rebuilding your garden from scratch, following these tips will surely help you, in particular when picking your new furniture. Good luck and enjoy this beautiful season!