Start Getting Your Home Ready for Spring with These Four Tips
by Guest on Mar 6, 2018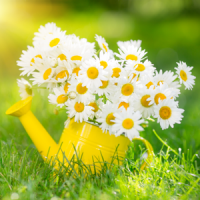 Winter is finally starting to wind down. For many of us, Winter meant cold temperatures, rough weather, and a lot of time spent inside. When Spring finally gets here, you're going to want to make sure you are in a position to enjoy it. Why spend more time inside trying to get your home in order when the weather is great when you could do it now while you're still stuck inside? With that in mind, here are a few things that you can start doing now that will help to ensure your home is ready for the Spring.
Check Your Air Conditioning
Once Spring arrives, more people are going to start using their air conditioning systems rather than their heat. If they encounter a problem with their AC, they are going to call in some local experts to help them out. This means that if you're one of those people who has a problem, you might have to wait longer for someone to come and fix it.
By checking on your AC unit now, you are doing a few things. First, you are making sure that it is ready for Spring so that it works when you need it. Second, you are giving yourself more time to find someone to fix it if there are issues, and perhaps even saving yourself some money. And finally, AC units that receive regular maintenance help save energy. By getting this done now, you can cut costs each time you use it this Spring.
Start Organizing Your Home
For some reason, Spring has become the time when everyone chooses to get their home in order. Perhaps it's seeing all the new flowers bloom that makes people want to start fresh, and they do so by organizing their homes. Why wait until Spring to do this, when you can do it now while you're still stuck inside? The end of Winter is a perfect time to organize your home and gives you something to do on those cold winter weekends.
Go through each room of your home, and clear out the junk you no longer need. You probably got some gifts over the holidays that replaced older stuff, so now is the time to get rid of it. Throw it out, sell it, or donate it to a local charity if it's in good condition. Grab yourself some storage containers from a local office supply store, and organize everything in an easy to find manner. There are plenty of ways to make the rooms in your home more organized, but if you need some tips, you can start with these.
Clean Your Home While You're At It
If you're going to be spending all of that time organizing your home, you might as well clean while you're at it. You've gotten rid of the junk, making it easier to sweep, dust, and vacuum out any areas that were once cluttered with stuff. It's amazing how much dirt and other debris can build up over time, and it isn't until we start moving things around that we notice it.  You're not going to want to move this stuff out again when Spring arrives, so use the opportunity to give your home a really good cleaning.
Decide What to do With Your Yard
Finally, when Spring arrives, you'll probably want to spend more time outdoors. All of your patio furniture and outdoor equipment went unused during the winter, and you're eager to get back out there again. Before you do, think about what you want to do with your yard when spring arrives.
Are you going to want to plant flowers? Does your garden need some after winter sprinkler prep? Does the patio furniture need replacing? Thinking about these things now allows you to plan out what you want to do, and get a jump on the season when it arrives. This way, once the first warm night arrives, you'll be ready to spend some time in your yard, while everyone else is still figuring out what they need to do to get it ready.
Give Yourself Plenty of Time to Enjoy Spring
Many of you are probably ready for Winter to finish so that you can finally enjoy your time outside. By doing some tasks normally associated with Spring now, you can give yourself some extra time to enjoy the weather once it arrives, and have one less thing to worry about. You're stuck inside anyway, so you might as well use this time to your advantage, and start getting your home ready for Spring now.