How to Clean Chrome Barstools
by Guest Post on Apr 16, 2010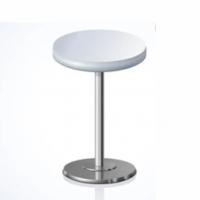 Chrome barstools are very beautiful and sleek. Chrome is used to create a retro appearance but equally, it is at home in comparison to the cutting-edge contemporary design styles, which we can present here for your consideration. Chrome barstools can offer a traditional static set and can also swivel. 
Chrome has stood the test of time by keeping its good looks and also by not corroding as it is a hard-wearing and durable material. This is the reason why auto fenders are made from chrome. It is the retro 1950's style statement both on the classic cars of the period and in the interiors.
Chrome is known to be tough, extra strong, and is also built to last. Black Chromium is used to give dark coloring to chrome plating. On the other hand, hard chrome is used to restore parts of industrial equipment that have worn down, and to lower the amount of wear and friction on the equipment. The chrome, which consists of bright colors, creates a very shiny finish product whereas black chrome is used to give dark coloring to chrome plating. Chrome maintains a bright finish and also resists wear and is harder than the other metals. It also provides excellent protection. This is the reason why chrome barstools are stronger than wooden bar stools.
Ideally, chrome is the best metal, which can be used to make barstools but it is also very important to maintain it. It is very important to constantly maintain the chrome barstools by wiping it quickly when there is a spill. To clean the chrome barstools water and mild soap are very useful. After the cleaning of this chrome, the barstool is done it should be completely dried. Some of this chrome, when used in metal furniture, can be just dusted, cleaned, and polished with one action. You can even use a multi-surface polish, which will help you a long way. Some of the barstools also consist of padding on the seats, as well as armrests. The majority of the barstools have no back, whereas some other models do. These chrome barstools will last the most and should be really taken care of by cleaning it regularly care can even increase the life of these barstools.
There are four ways, which can be used for cleaning the chrome barstools such as:
* Vinegar: To clean chrome, wipe with a soft cloth dipped in undiluted white or cider vinegar.