6 Reasons to Outsource Cleaning Services
by Guest on Apr 19, 2018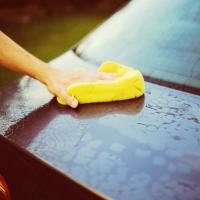 Running an in-house cleaning service might look like a rewarding business in the long run, but contrary to popular belief, there is a lot more you may be able to discover if you were to outsource your cleaning services. The level of professionalism in outsourcing cleaning services will turn the tables in your favor.
Many businesses, whether big or small, are preferring to hire commercial cleaning services to keep their offices looking their best. What better way to assist such business owners than to extend your services to them and get paid for your relevant professional services?
Here are a few reasons why outsourcing cleaning services might work in your favor.
1. Fewer Things To Do
Running a cleaning service business while you're already busy with another, more important business is definitely counter-productive. Why concentrate on two different things that would require equal attention when you can actually have a cleaning service company that does its own work with its own supplies and people? This not only saves you more time but also does the same for your employees, who can focus on their jobs properly, thereby bringing you more business. With this in mind, you can find office cleaning services to suit your requirements. Everything that has to do with cleaning and janitorial services will be the focus of the company you outsource and it's employees as well. This way cleaning becomes a priority for the hired company and things sort themselves out without you having to pay extra attention to janitorial duties. You can then devote more time to other things.
2. Cost-Effective
There's a noticeable change in the cleanliness of your space if you've outsourced a cleaning service. Mostly, you will see an immediate impact on your savings. A professional and commercial cleaning service will have cleaning and janitorial services as its main focus, which means that the work will be done quicker and faster. Since the cleaning company will get its own equipment, you are no longer at the mercy of buying said equipment from retailers which might cost you a lot more. Since hiring employees and training them becomes the primary focus of the janitorial company you've outsourced, you are not required to look into such matters, giving you more time and money to dedicate to other significant things in your business. Everything that you might do, a commercial outsourced cleaning service will do better.
3. Professional Cleaning
A good, reputed cleaning services company will dedicate it's time and effort in being as professional as possible. Not only can you expect top-notch services, but also great equipment that you may not get in the market easily, training employees and what not, everything happens on a professional level that you yourself may not be able to achieve on your own. Cleaning services that are professional in nature will make their services as high quality as possible to get more recommendations and more business overall. You can expect professional and acute cleaning of your space if you were to outsource janitorial services from a well-known cleaning company. You can also have your cleaning customized according to the services and additional equipment the cleaning company will bring along. This way you ensure that professionals take care of your every need without you having to do much.
4. Convenient Hours
Whatever time frame works best for you and your office space can be communicated to the cleaning services you've outsourced so that you can have the work done as per your convenience. Outsourcing a cleaning service means that they can employ people based on your requirements and working hours. Your cleaning needs can be accommodated by the outsourced company since they are flexible with their hours and work based on how you require them to since they are not bound to work a designated working time frame. Be it requiring more people to clean the space or preparing a proper maintenance schedule, a commercial cleaning company will adjust according to your needs. All you would need to do is communicate your requirements and get the service you need.
5. Better Equipment
When you are outsourcing a cleaning service, you can rest assured that more work will definitely be done in a less amount of time as opposed to what would happen had you not outsourced a cleaning service company. A company that is experienced and reputable will make sure that the most high-quality products and top-notch equipment are used to clean your space. Even training and staff will be employed in such a way that it suits your requirements so you can get the best out of the cleaning service you've hired. There are various services and additional equipment that an outsourced cleaning service will introduce you to which you wouldn't otherwise be able to explore if you were to venture into an untapped territory of this sort on your own. You also get to look at the various types of cleaning services a company offers and pick what you need.
6. Bonus Services
A professional cleaning service getting outsourced means that you can also get introduced to various new aspects of cleaning. Be it equipment, products, training, hiring or overall services. There is much to explore in the cleaning world that you may not necessarily be aware of, and the outsourced professional cleaning service you've hired may be able to help you understand. Various offers and products can also be explored in such situations, making sure that you get the best service according to what you need. Many cleaning companies have their own set of additional services that they offer. This gives you more options to choose from and figure out exactly what kind of company might suit you properly.
Outsourcing cleaning services clearly have a lot of benefits which is why, in order to run a smooth business, this should be essential. In times of acute pollution and the requirement of getting things done faster and on time, outsourcing a commercial cleaning service would perhaps be one of the wisest decisions you take as a business owner, no matter how small or big you may be.