12 Bathroom Cleaning Tips and Cleaning Secrets from the Pros
by Joanne Miller on Apr 28, 2016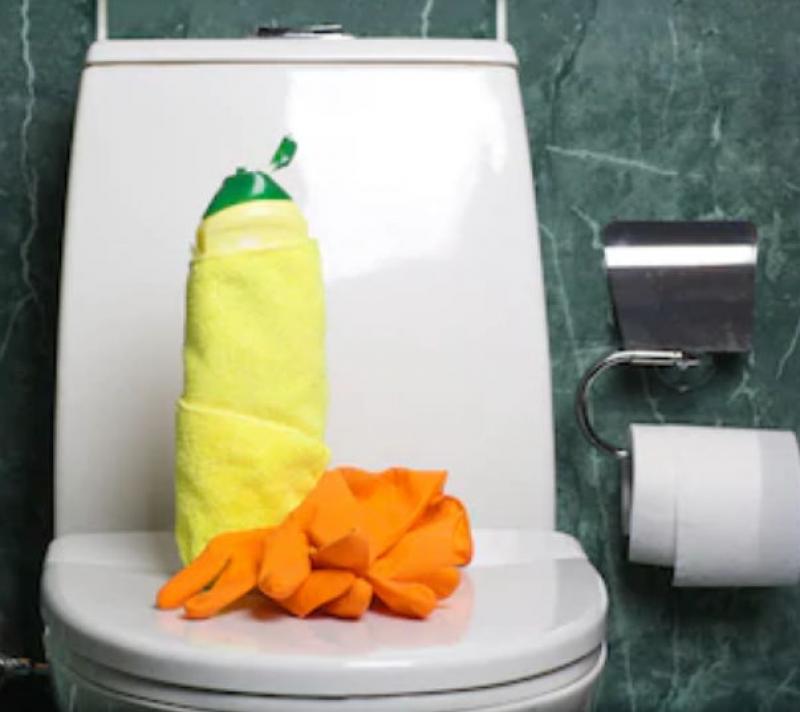 Want to get that clean, pristine look that you admire so much when entering hotel and resort bathrooms, but don't want to burden yourself with day-to-day scrubbing, brushing and wiping? Maybe it's time to learn from the experts.
Here are 12 tips to get the cleaning done right, especially when it comes to tile and grout cleaning in the bathroom:
1. Set a Schedule and Follow It
Consistency is key in maintaining a well-kept house. Make a specific schedule and commit to it, as that's what professional cleaners do. If you're feeling lazy or unmotivated, play some music or reward yourself with a small treat to get things going.
2. Dress for Serious Cleaning
You wouldn't want to be mindful of dirt and grime sticking to your favorite clothes, so make it a point to wear comfortable clothes that you won't mind getting dirty on. Put on some knee-pads and protective shoes, gloves, and goggles to protect against cleaning agents.
3. Use the Right Tools and Supplies
Invest in tools that you'll be using for a long, long time and don't pick the cheapest ones available. Buy a cleaning tray on which you can put in four basic cleaning supplies such as a tile and bathroom cleaner, powdered abrasives, heavy-duty degreasing solutions, and a light-duty evaporating cleaner. You can save valuable time gathering all you need before starting your bathroom cleaning.
4. Use Your Two Hands
Making use of both your hands will minimize the work time because you are cleaning efficiently. For example, use one hand to spray the cleaning solution, then use the other to wipe it down. Use two sponges instead of one, and arm yourself with a duster on the left and a cleaning cloth on standby with the right.
5. Declutter While You're At It
You won't get very far if you're organizing the surface with all kinds of beauty products and bathroom things, so make it a point to declutter first. Pick up empty things and things you won't need, or put them back in storage before starting your cleaning routine.
6. Get Rid of Dust and Dirt First
Remove small objects such as hair and dust out of the way in a top-to-bottom manner. Dust shelves and fixtures with microfiber cleaning cloths, then vacuum it all away out from small corners and the floor.
7. Utilize the Power of Hot Water
Steam and hot water make things easier for you and your cleaning agents. Fill up your tub with a few inches of hot water from the tap, then let apply it to surfaces such as the tub, the tiles, and the toilet.
8. Spray and Spread
After you heat up the bathroom's surface, it's time to spray antibacterial solutions on the tub, floor, toilet, sink, counters and the walls. Instead of going from the ground up, do it in a top-to-bottom method. Start from the shower walls, then going inside the tubs and the toilet bowl.
Now that you've got a healthy coating of cleanser all around the bathroom, it's time to make sure all surfaces are covered. Use a cleaning cloth or a sponge to spread them on tile surfaces and counters.
9. Let It Sit
Allow for some time (around 6 to 8 minutes at the most) for the cleaning disinfectants to do their magic. During this time, you can take a quick break before starting the manual labor of scrubbing. Let the cleaning solution stay on dirty surfaces and in the toilet bowl.
10. Scrub and Rinse
Pick up the appropriate-sized abrasive pads and start scrubbing away at the surfaces. Remember to use two hands whenever you can to cut the time by half. Utilize the brush on hard to reach and deep crevices in the tiles and tub; make sure to scrub every surface inch for maximum shine.
Rinsing is an essential process because the chemicals found in cleaners are naturally bound to dirt and soil particles and they can prove to be more troublesome if not properly rinsed. After the disinfectants to their job, eliminate all traces by thoroughly rinsing with water.
11. Dry All Surfaces
After cleaning, use dry cotton rags to wipe all moisture on all surfaces. Use different cleaning cloths for different surfaces such as glass, tiles, toilets, sinks, and tubs.
12. Shine Mirrors and Glass
Use the appropriate glass cleansers and spray mirrors and other glass surfaces before wiping them dry with a microfiber cloth. Then you're done! Just make sure to rinse, wipe and dry the floor before exiting the bathroom.