Earthbag Building Expands Worldwide (Sandbag Building)
by Guest Post on Jul 6, 2010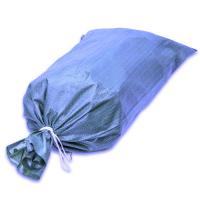 Earthbag building (sometimes called sandbag building) started about one hundred years ago providing safe, bulletproof, and bomb-resistant shelters for the military. They proved to be fast, simple to construct, and durable. The same qualities that make earthbags useful for military and flood control purposes apply to building houses. Now people all over the world are using the same basic process of filling and stacking bags to build their dream homes, home offices, shops, and other commercial buildings.
No one knows for sure how many earthbag buildings have been built. My best estimate is somewhere between 1,000 and 1,500. Although this is just an estimate, it is based on hundreds of hours searching for earthbag projects on the web and reading everything available on the subject.
Perhaps the most distinctive aspect of building with bags is their adaptability. Besides buildings, earthbags can be used to create furniture, privacy and retaining walls, planters, and many other uses in a wide range of climates. For example, earthbags work just as well for domes as they do for structures with vertical walls. They also excel at creating free-form, curving structures.
The following projects highlight the incredible creativity of earthbag builders as well as illustrate the diversity of uses for this amazing building method.
Alison Kennedy's house in Moab, Utah: This 1,000-square-foot home is the first permitted earthbag house in Utah. It uses earthbags as an in-fill between concrete and wood posts. The earth and lime plastered walls are decorated with strikingly colorful designs made with clay paint.
Rum Cay Sand Castle in Rum Cay, Bahamas: Steve Kemble and Carol Escott decided to build with earthbags so their house would withstand tropical storms. This innovative house uses bags filled with crushed coral and sand from the dredging operation of a nearby marina. So far, after being hit by several hurricanes, there has been no substantial damage.
Kelly and Rosana Hart's earthbag and papercrete house, Crestone, Colorado: The Hart's house is world famous in the sustainable building movement, having been featured in at least 10 books and magazines. Their double-dome earthbag home has a connected space for their bath, laundry, hot tub, office, and grow bed. The bags have been filled with volcanic rock to insulate against the extreme Rocky Mountain winters.
EarthDome House at Terrasante Village, Tucson, Arizona: A 12-foot circular structure is built 3 feet below grade to moderate harsh desert temperatures. It has a ferrocement roof made of rebar and diamond lath, which is coated with cement/lime plaster. The roof is insulated with recycled polystyrene, an abundant material in their area. Inside temperatures remain comfortable. Total cost: about $1,000.
As people discover the advantages of building homes with earthbags (sustainable, safe, quiet, durable, low-cost, nontoxic, fire and flood resistant, rodent proof, bullet resistant, etc.), they are also building commercial structures. Examples include: La Casa de Tierra, a vacation rental in Costa Rica; earthbag schools and a clinic have been built in the Philippines; there is a ranger station in Bluff, Utah, an orphanage in Honduras, and a large spiritual temple called the Om Dome in Thailand. These are but a few examples.
In addition, builders, NGOs, research institutes, and governments are discovering the potential for using earthbags in affordable housing and emergency shelters. Requiring just a few simple materials such as recycled grain bags filled with soil or gravel, and ordinary tools such as shovels and buckets, a small dome or shelter can be built for as little as $100. This makes earthbag building one of the lowest-cost sustainable building systems in the world. No doubt all these advantages are behind the current surge in earthbag building.
Owen Geiger (Director of the Geiger Research Institute of Sustainable Building at GRISB.org) and Kelly Hart (owner/author of GreenHomeBuilding.com) have teamed up to create EarthbagBuilding.com to better focus and keep track of the rapid growth of this novel building method. And for all the latest news, building tips, and innovations, visit our earthbag building blog at Earthbag Building Blog