The Construction of Modular Buildings
by Guest Post on Nov 10, 2010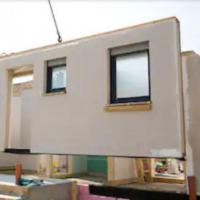 Modular buildings are constructed from prefabricated components made in a factory.
Modular buildings can be constructed for temporary, semi-permanent, or permanent purposes. As they are quickly and easily constructed, they are very well suited to provide temporary emergency housing or when disasters occur such as fires for example.
As modular buildings are constructed in a factory, the weather does not affect the construction time which means a more accurate and faster completion date is achievable, unlike a traditional construction site where the weather and other factors often mean a building is delayed. Even electrical wiring is done in the factory.
Modular buildings are either constructed from a single section or in the case of larger structures, they are made using several sections. These structures can be ordered from a company's standard range or they can be made specifically designed and built to the needs of the end user/company. Once completed, the modular building is shipped to its location where foundations will have been set down and these foundations can be temporary or permanent depending on what the need is for the building.
Modular buildings are almost unrecognizable from those available 10 or 15 years ago. They are far more complex and are of far better quality with many incorporating state of art technologies and materials. In these tough economic times, the ability to save a great deal of money on office space, extra classrooms, and temporary health care centers, for example, is crucial. Modular buildings fulfill all the criteria required whilst being quickly and cheaply erected.
From an environmental perspective, modular and portable buildings have advantages over traditional construction. The manufacturing process creates far less waste than traditional construction and can be built cost effectively but using materials that are both environmentally friendly in the construction process and for fuel saving when occupied. As mentioned earlier, not all modular buildings are permanent. Due to this, second-hand and used modular and portable buildings are available. When purchased, these pre-owned structures embody even more environmental effectiveness. The embodied energy required to manufacture a modular building is transportable as the embodied energy is locked within the fabric of the building. Therefore the energy contained within pre-owned modular buildings can be transported and relocated to another site. In traditional buildings, this is largely lost when they are no longer required and demolished, even when the materials are recycled. However, with modular buildings, the embodied energy can be relocated along with the modules to another site.