Neighborhood Garage Door Service Expert Gives 7 Important Security Tips
by James Cummings on Nov 15, 2017

Usually, having a garage offers extra security for your home and your important possessions such as your vehicles. But this advantage can become a liability if you don't know how to use your security door properly or how to protect yourself and your loved ones from accidents.
Recently, I caught up with Chris, a home security authority from Neighborhood Garage Door Service and he shared with me some vital security notes every contemporary homeowner should know about their garage door. And I must say some of them were quite intriguing and pleasantly new to me; I simply have to share with you too.
Keep the door opener out of the reach of children
Just like every other device remote, keep the garage door opener out of the reach of children. Don't allow them to play with it, it is not a toy. Don't even allow kids to handle the opener under your supervision, as they will look for any opportunity to play with the remote when no one is around. And they might hurt themselves or others by opening and closing the garage doors without checking to see if anyone is under it.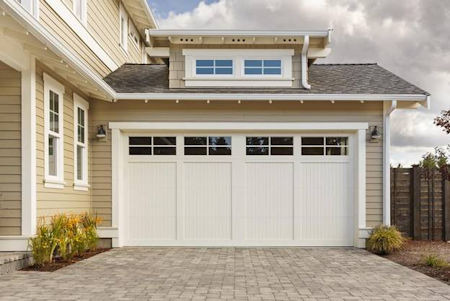 Even if your kids are begging you to show them press the button, resist the urge until they are old enough to understand the consequences of misuse.
2. Familiarize yourself with the safety features
Every garage door comes pre-installed with several safety features.  Some of these are self-evident and some are not so obvious. The most important feature to look out for is the emergency release. This normally comes in form of a red handle which you can pull to manually disengage the motor. This feature is very important as you can use it to open the door if something malfunctions or if you lose power to the motor.
3. Don't walk under a moving door
A lot of times, after driving out of the garage and you realize that you forgot something inside, you run back inside, under the door to pick up what you forgot. This is such a bad idea. Maybe you have done it on several occasions without any misfortune; it is still a bad and dangerous habit you need to stop at all costs.
What if there is a bit of oil spill on the floor and you slip? You might fall under the descending door and get crushed. It also sets a bad example for children. When children see you running out and under a moving garage door, they will think it is safe for them to do that too. And while you can exit the garage quickly, children might be a bit slower to do so and this can result in a fatal accident.
4. Keep your garage door properly maintained
For your garage door to function properly, it must be constantly maintained.  Take some time every month to look for springs, cables, rollers, and pulleys that show signs of wear and tear. If you discover any, do not attempt to remove or fix them yourself; engage the services of a specialist to look into it for you.
5. Leave the repairs to professionals
No matter how smart you are with your hands, there are just some things you have to leave for the experts to handle. Fixing your garage door when it has a problem is one of those things. A lot of things can go wrong. The heavy door could fall on your or anyone else under it. The electrical system could hurt you.
"An amateur, fixing a garage door is a safety hazard" Chris emphasized. "You might not be able to get the tools needed to get the job done right, and will have to make do with what you have in your toolbox. And without the proper training and experience, you will only end up putting yourself and family at risk,"
Garage door repairers know where to source original materials for their repairs. Using the wrong tools and materials can end up causing damage that would be very expensive to fix. Always look for a neighborhood garage door service in your locality to give you a quote.
6. Never leave your remote control in your car
An intruder can gain access to your home through your garage. Never leave your garage door control in your car, even if the car is locked. Consider using a keychain so that you can have control with you wherever you go.
7. Set to vacation mode when you travel
Most modern garage door openers come with a nifty feature called vacation mode, which allows you to render your garage door opener unusable. This way when you travel; people will not be able to gain access inside. If your garage door opener does not come with a vacation mode feature, you can simply unplug it when going on a journey.
"Your garage door was installed to give security to your home and properties. Do not let it turn into a dangerous tool because you failed to follow a few safety precautions," Chris concluded.
Certainly, following these few tips he'd offered can help reduce the risk of accidents in your garage.