Things to Know about Garage Door Windows
by Kenneth May on Jul 7, 2018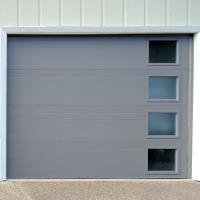 Thinking of installing garage doors with windows? Want to add windows to the existing garage door? Learn all you need to know about garage door windows.
Things to Know about Garage Door Windows
Do you think it's accidental that most garage doors today feature windows? Apart from breaking the (boring) uniformity of a plain steel or wood garage door, windows add an extra appeal to the home. All the same, there is a lot to consider before you decide whether to choose a new overhead door with or without windows. And although there are advantages and disadvantages, the question is which outnumbers the other (for you).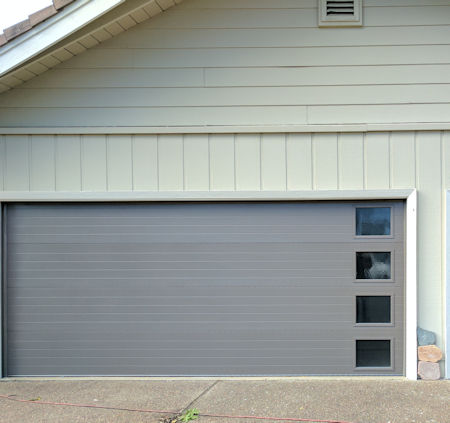 Let us start with the basics.
Which are the benefits of garage door windows?
One of the greatest advantages of garage door windows is that they let natural light in. This is helpful when you do any kind of work in the garage – laundry, tidying up the tools, try to find your scissors, get the keys from the car etc. Natural light makes the garage more pleasant and helps you cut down energy expenses.
A white aluminum overhead door might be boring without windows. So they are a great addition that will make the home more inviting and attractive.
You can choose from a number of garage door window configurations as well as designs, styles, and shapes.
There is a handful of glass choices and your windows can be insulated too.
Which are the downsides of garage door windows?
Since everything comes with a price, garage door windows with clear glass panels can diminish your privacy. An overly-curious passerby can easily take a pic of what's going on in your garage.
Glass is fragile. And so garage door windows can be easily broken if someone throws a baseball or flying debris land on the door.
Since these windows are also sealed for better garage insulation, you will have one more thing to add to your have-to-check-and-fix list.
The great news from the garage door industry
As far as the downsides are concerned, there are solutions. Yes, glass is fragile and can break. But if you install windows with tempered glass, it will be more durable and even if it breaks, they won't have rough edges. You can also find special glass options on the market which are shatter resistant.
Another piece of good news is that some glass garage door windows can provide increased protection against UV rays. The glass can be insulated and sealed and this is important if you heat up the garage and/or have an insulated overhead door.
We've got more good news for you. Today, you can add windows to your existing garage doors. Whether they are insulated or not, all you have to do is inform your garage door repair company and change the looks of the existing door. One thing to consider here is the springs. With the new windows, the door will be heavier and thus your garage door springs must be adjusted.
The even better news is that you can choose from a large range of styles and so match the windows of your residential garage doors with the windows of your home.  
Which garage door windows to choose
Windows can be placed on any section of the overhead garage door. If you want privacy, prefer to have the garage door windows in the upper section. If you use the garage for family activities or want to view outside, prefer windows in the lower sections. In this case, you can still have privacy by choosing obscure or milk glass. As for their design, you can find windows in all shapes, sizes, and styles. From arched to long and square, you can choose any design and configuration you like.
There are expensive and inexpensive upgrades. There are many styles and glass options, which will cover both your aesthetic and privacy needs. So, you definitely have many good reasons for investing in garage door window installation. Just make sure the windows you choose are right for your garage door and personal needs.