Public Garage Storage Cabinets
by Guest Post on Sep 30, 2018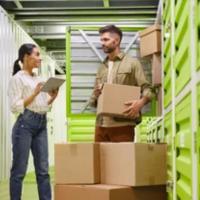 Most people store a lot of items and products in their garage: their gardening tools, bikes sometimes even books or DVDs. They mostly rely on the public storage units because it is easily available near them by simply searching on storage units. Garages are also sometimes used as a workshop. As a result, it can be one of the messiest rooms in your house. In order to get more organized, you need a resistant storage utility because of all the dust there is usually in this kind of place. A garage storage cabinet can be a great solution.
If you need a lot of space, you there are multiple piece cabinets which can be very useful. It usually comes with a hanging wall cleat system and adjustable hinges. It can make your garage a more functional room. You can use each to store a particular category of items to find them a lot easier. It can be useful especially if you want a workshop. If all your tools are on the floor you will lose precious time. With a more organized room you will be more efficient ant it will be more pleasurable to work.
If you gain space, you will also be able to invite friends to hang out and maybe install a billiard table or other games. It can be an interesting idea if your home is too small and that you can't install a game room inside.
That's the reason why it's always interesting to make plans before anything else. Imagine how your garage will look like. How many pieces you need how many tools you need to store, the space need for your car and bikes… Also make sure that you will be able to access everything easily. For example, make sure you will have enough space to move around especially if you want a workshop.
There a lot of other ideas you can use. You can also think of the flooring. Such product as liquid granite hybrid polymer will fit well with most cabinets and has the great advantage of being really resistant and easy to clean. You can also think about a new door and try to choose one made in the same material as the cabinet to make it more decorative.
Remember that if you have things that are too big to fit in a cabinet to install a wall storage system. It can be useful if you have bikes and big garden tools and equipment.
After you made your plan you have to make sure you have the budget to make your ideas become real. Multiples pieces cabinets are great but they can be really expensive. You can rarely find one for less than a thousand dollars. If you don't have that kind of money you can choose a simpler product. Make sure it is well designed and that it will fulfil your needs. You can find a good model at 500 dollars. There also two doors wall cabinets that you can find at 100 dollars. That said, you will probably need more than one so the price to pay risks to be higher.
If you lack space always remember there are other kinds of storage utilities you can use. Garage ceiling storage is great because it leaves you a lot space to organize the rest of your room. You can also try garage storage racks for the less valuable tools you have. The other advantage being that they are generally a lot cheaper.