Clever Window Coverings for a French Door
by Guest Post on Jun 8, 2010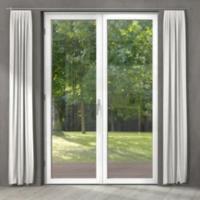 French doors are elegant additions to any room, but they can be problematic when it comes to finding a window covering. Their unusual window length combined with the fact that they open and close frequently, make many conventional window coverings obsolete and inappropriate. Before resorting to nailing a sheet over the doorway to cover the windows, try one of the other options below.
Curtains
Curtains can be custom-made to fit a French door. Simple measurements and the ability to sew with a sewing machine makes creating custom curtains a breeze. Thankfully, there are also pre-made curtains that are designed specifically for the needs and measurements of French doors. Larger home decor retailers, as well as, many online curtain companies offer such options. These curtains can be found in light voile fabrics that offer less light protection than their heavier counterparts, but are elegant and airy in design. Heavier curtains can also be found or made to match the other curtains in the room. This provides continuity in pattern and color throughout the space.
Honeycomb Blinds
These blinds are delicate in structure, but powerful at blocking light and heat that may stream through a French door window. Honeycomb blinds can be pulled down from a small knob at the base to close them and pushed back up in an accordion manner to let the light shine in. They work well at blocking light and heat, but typically have to be special ordered, as they are not always available in all shapes and sizes. Custom blind manufacturers are the best source for honeycomb blinds as they can offer a wide range of colors and sizes to fit the needs of any door dimensions.
Roll-Up Blinds
Roll-up blinds are usually one of the most inexpensive types of blinds available. They are made of small slats woven together in a long mat like shape. A long, looping string is then attached to the blind mechanism at the top of the piece. When pulled, the loop of string helps to roll the blinds up. This is a great way to provide a more natural window covering look, as most roll-up blinds tend to be made of natural materials. The drawback to them, much like Honeycomb blinds, is that they are an all-or-nothing type of approach to window coverings. To let any light in, the blinds must be raised, and to block light, they must be completely closed.
No matter what type of window covering is finally decided on for the French door windows make sure that it matches the look and feel of the room. A more relaxed and casual room would do well with roll-up blinds or honeycomb blinds, as they both offer a more homey, casual appeal. Formal dining rooms or living rooms with French doors would do better with custom-made curtains that coordinate with the rest of the room's window treatments. The more polished the look is, the more elegant the window coverings will appear. Choose French door window treatments wisely, realizing that they will be one of the main focal points in any room.