Adding a Pocket Door to a Dining Room
by Guest Post on May 25, 2010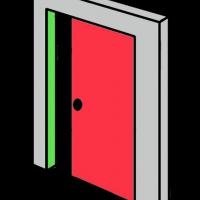 In most homes, the dining room and kitchen may be separated by a simple doorway or a regular swinging door. While an open doorway allows easy access to and from the kitchen, a disadvantage is that kitchen grease and unwanted smells usually find their way into the dining area. A great solution that allows the flexibility of both going in and out of the kitchen when serving meals, and creating an intimate space to sit down for dinner, is adding a pocket door. Adding a Pocket Door to a Dining Room  
Advantages of having a pocket door
Between the kitchen and dining room, a pocket door creates a separation between the two areas when closed. When an open doorway is preferred, the pocket door disappears by sliding into the cavity of the wall. The number one advantage of having a pocket door over a regular hinged door is that it saves space that would normally be taken up by the swinging door. Its unobtrusive and clean style makes it a popular type of door to have in any interior space.  
Styles of pocket door
Pocket doors have been used for more than a century and are now coming back in style. In Victorian homes, ornate wood pocket doors are common for separating smaller living spaces. Homes designed with an Asian theme may also feature sliding pocket doors made of bamboo or light wood with rice paper screens. Contemporary pocket doors range from those that blend seamlessly with the surrounding wall to elegant glass-paneled doors, to modern aluminum doors. Single pocket doors slide either from the left or right wall, while double pocket doors slide out from both sides of the doorframe and meet in the middle.  
Installing a pocket door
Installing a pocket door during the construction or renovation of your walls is an easy enough task, but if you want to add one later on, you will first need to consider that there may be issues within the wall that you will need to address. Your wall may hold plumbing pipes, electrical cables, or wiring that have to be relocated.
When you have purchased your pocket door and hardware, follow the manufacturer's instructions closely for the correct installation of your door. Make sure the top of the door opening is level. This is important for the square and plumb installation of the frame for the pocket door. Install the hardware to the frame, starting with the track and moving on to the jambs for the floor brackets, and then the bumper stop at the back of the pocket. Again, the assembly should be level so that the door can properly slide open and closed.
You can now attach the door by securing the door plates to the top of the door and hanging the door on the hangers that side along the track. Finish the wall by installing the drywall or other wall surround using construction adhesive. Finally, install the door guides, jambs, and casing, details that ensure smooth functioning of the pocket door and produce a clean and finished look.