Helpful Hints for a Jammed Pocket Door
by Michigan State University on Apr 26, 2012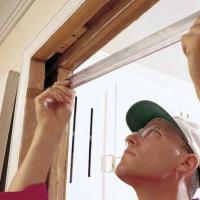 Pocket doors can be frustrating when they don't work properly. The door itself is hung from rollers that run on a track above the door and into the wall cavity. When the door doesn't work smoothly, it's usually because the rollers have come off the track. Sometimes it is possible to get the wheels back on track by lifting the door upwards and pushing the wheels back onto the track.
If the door is stuck inside the pocket, it must first be pulled out of the opening, which is easier said than done, since the door is resting on the floor rather than hanging from the track. Unfortunately, many people lose patience and try to force the door, only to wind up damaging wheels and track, which is a much more expensive repair.
If you can handle finish carpentry, you might be able to take apart the casing, the jamb stop, and the jamb to get your door out of the wall to make the necessary repairs. However, most people are better off contacting a professional to repair pocket doors.