Perfect Task Light Solutions in the Bedroom
by Jessica Ackerman on May 25, 2010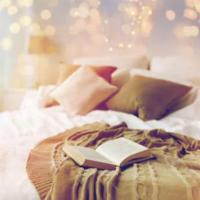 Lighting in the bedroom can become a tricky situation since it is a room that should be calming and relaxing, but lights are necessary for activities and other purposes. The answer is task lighting, which enables the people in the room to do the things that they want to do, such as dress or undress in the dark, without waking another person. This also adds to the peaceful environment in the room, since proper feng shui teaches that harsh lights, pointed light bulbs, and similar objects will rob a bedroom of its relaxing ambiance. 
Lamps are the most often used type of task light in the bedroom and may be the perfect task lighting solution. There is such a wide variety of styles, colors, and shapes that are available that they make a perfect addition to the accessories in the bedroom, and can easily be integrated into any décor. Use a full spectrum light bulb to simulate natural light, and you will reduce the strain on your eyes if you are reading or studying in bed at night, as an added advantage. 
Lampshades are just as diverse and can be customized or personalized to match the décor of almost any bedroom. A lampshade can add the perfect touch to your lamp, or really stand out in the room. Although they are not usually used as a focal point, they can be placed on a lamp that is set against a focal wall to attract more attention to the room's main focus. 
Another perfect task light solution in the bedroom, for larger bedrooms, is a dimmer switch feature on an overhead light. The overhead light should be round, as pointed shapes add negative energy, but the fixture should be able to be dimmed as needed during the evening or early morning hours. This allows you to set the mood accordingly, and have a brighter light when you need it, but a dim light when you do not. 
Bedside lights, such as those that attach to the headboard, are becoming more popular each year, and are a very inexpensive task light solution. What makes them so great is that they are easy to install, last a very long time, offer a sufficient amount of light for reading or studying, but will not wake another person sleeping in the same room, or even the same bed. They can easily be pointed in the direction that you want them to point, and some offer a dimmer feature for setting a romantic mood as well. 
Finally, faux or real candles are a beautiful and elegant touch as task lighting in the bedroom. Be very cautious with real candles, and be sure they are kept well out of the reach of children and pets. Faux candles offer a great source of dim light that is perfect for setting a romantic mood, and home fragrance manufacturers offer lights that produce a pleasant aroma as well. Traditional candles are beautiful but can be dangerous if not treated with a healthy amount of respect. 
There are many perfect task light solutions in the bedroom that can be considered when you design your décor. Most depend on your individual tastes, budget, and the rest of the room, but they can be incorporated into almost any budget or design plan. Look online at most retailers, or in conventional stores, to get ideas about what will work in the bedroom you are designing.