How Much Does it Cost to Install Hardwood Floors
by Guest Post on Jan 19, 2023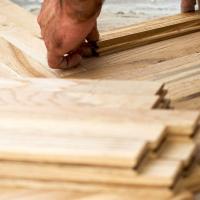 There are specific considerations to make before laying hardwood flooring in your house. The first thing you need to know is that the price of hardwood flooring changes based on the species and the thickness you choose. Second, there are several methods for installing hardwood floors; choose the one that's most convenient for you. Finally, keep in mind that with appropriate installation and maintenance, hardwood floors may endure for generations. The cost to install different types of hardwood floors and lay them down correctly to avoid excessive hardwood floor refinishing costs in the future are discussed here.
Calculating The Price of Hardwood Flooring
The cost of wood flooring might vary depending on whether it is engineered wood or a more typical solid hardwood. Hardwood flooring comes in a wide variety of styles, colors, and textures. Homeowners should be able to get a pretty accurate estimate of the total cost if they take these things into account.
Room Size
Hardwood flooring installation prices increase as the square footage of the space being covered rises. Installing hardwood flooring might cost anywhere from $6 to $12 per square foot on average. Larger areas, such as a whole floor, may incur an increase in cost from $13 to $25 per square foot. Small-space installation for an area of 500 square feet or less can cost you between $3 000 and $6,000. Homeowners might anticipate spending up to $24,000 on a 2,000-square-foot property.
Sort Of Wood
There are several types of trees that may be used to make hardwood flooring, and these species vary in appearance, price, and longevity. Pine flooring, the most affordable option, may cost anywhere from $4.50 to $10 per square foot. Oak and hickory, two more hardwood options, cost $6 to $13 per square foot. Brazilian walnut, one of the costliest wood types, may cost anywhere from $11 to $20 per square foot.
Wood Quality
Physical qualities are used to categorize different types of wood flooring. "Clear" rated wood flooring has no knots or other defects in its grain and has a consistent hue throughout. More incredible natural-looking wood flooring with knots, color variations, and mineral streaks receives the "select" rating. In contrast, darker wood flooring with more color variation and possible wormholes receives the "No. 1 common" category. Depending on the installation, the price of No. 1 flooring ranges from $6 to $11 per square foot. "No. 2 common" flooring is cheaper than "No. 1 common" flooring (ranging from $9 to $18 per square foot installed), and it also has a more rustic appearance. Costliest is the "clear" rating, with discounts occurring with lower quality levels. Premium quality wood flooring may cost between $12 and $23 per square foot when installed.
Wood Width
Traditional planks of wood flooring are no more than three inches broad. The boards for wide plank flooring may cost anywhere from $4.50 to $18 per square foot, with installation costs on top of that. With broad planks, you can cover the same space with fewer boards, which means less time and money spent on labor.
Grain and Color of Wood
When picking on hardwood flooring, homeowners may be first drawn to the variety of colors available. They may use lighter woods like ash and maple to provide a more airy and bright appearance. Hickory and oak are good options for a warm medium wood tone, and both give character to a space. Mahogany and walnut have a deep, dark hue that may appeal to those who favor darker woods. Oak and hickory are on the more affordable side, while mahogany is on the more expensive side.
The cost is also impacted by the wood's grain. The least expensive option is plain-sawn boards, in which the wood grain is uniformly distributed over the board in a wavelike pattern. Prices tend to be higher for quarter-sawn and rift-sawn boards due to the direction of the grain. Oak, for example, has a tight and prominent wood grain, whereas white ash and Acadia, on the other hand, have more varied grain patterns and more contrast.
Wood Style and Pattern
The price of hardwood flooring might change significantly based on the design and style that is selected. The cost to install wood-look tile is $15 to $20 per square foot or $900 to $2,900 On the other hand, wood-look tile is not natural hardwood as you might find in a forest. It is more expensive than wood, but it will survive for a much longer time and will not decay or warp in damp places such as basements. The labor to lay a herringbone wood floor is 30 percent more expensive. By angling the planks, a herringbone pattern is formed, although this method increases waste and lengthens the installation process. Parquet flooring, if placed individually, may cost $20 to $45 per square foot. Kits of prefabricated hardwood tiles that mimic the traditional parquet pattern are now more often available for purchase than individual parquet planks. A typical price for such a kit would be $15,000, or $7–$15 per square foot.
The Density of the Wood
The going rate for 3/4-inch-thick wood flooring is about $6 per square foot. While 5/16-inch-thick hardwood flooring is available, it might be more challenging to refinish in the future. Hardwood flooring with a thickness of 3/4 inches may be refinished as many as ten times using sandpaper. Boards that are $2 to $5 per square foot thinner are less expensive, but they cannot be sanded as much and will not withstand repeated refinishing.
Labor
Hardwood flooring takes more time to install than softer varieties. It takes more time to install exotic hardwoods like teak and Brazilian walnut than it would use a softer wood like pine. Herringbone and other angular designs are more expensive because they need more cuts and produce more flooring material waste. Hardwood flooring costs more and takes longer to install in rooms with complicated layouts or those that include countertops. Approximately half of the total cost, or $3 to $9 per square foot, will be attributable to labor costs for most households.
Final Thoughts
Hardwood flooring installation is not cheap, as you can see. However, there are a few things to keep in mind before finalizing the cost estimate, and those things need to be accounted for. The cost of hardwood may vary based on the species chosen as well as the proportions that are desired. If you want any extras or improvements (such as completed edges or underfloor heating), put the cost of those in as well. Finally, keep in mind that trained experts will always charge more than DIYers because of the expense of work. In the end, however, investing in quality hardwood installation is money well spent.