Carpet or Wood Flooring - the Pros and Cons
by Guest Post on May 23, 2010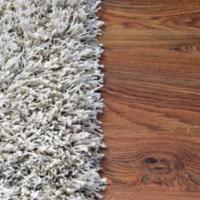 Looking to update the appearance of the interior of your home? What better way to freshen up the look of your rooms than replacing the flooring? Here are some advantages and disadvantages to taking into consideration when you are deciding between carpet or wood flooring.
CARPET: advantages and disadvantages
Pros:
The most obvious advantage of carpet is its warm and comfortable texture. It insulates cold floors, in contrast to wood flooring, which is cold and hard. For a baby's room, the cushioning provided by the carpet will allow him or her to play safely and buffer a fall.
Carpet comes in a variety of colors and can be coordinated with the furnishings of your home.
The cost of carpet is typically less than wood flooring.
Many carpets are made with a stain-resistant finish, making them easier to clean than carpets of the past.
While most carpets have a reputation for hoarding allergens and being environmentally unfriendly, 100% natural wool carpets are non-allergic and non-toxic.
Cons:
Carpet stains are more difficult to remove and dust accumulates in areas that are more challenging to vacuum. Inferior fibers like olefin and PET carpeting may turn brownish or grayish after cleaning.
Carpet tends to wear more easily than wood flooring. With inferior grades of carpeting are more prone to unraveling and tears.
If you suffer from allergies, carpet fibers and trapped dust mites can exacerbate the problem.
Most carpet is non-biodegradable; in fact, 1.8 million tons of used carpet are sent to U.S. landfills each year. However, manufacturers have recently begun offering more environmentally friendly carpet options, including new carpet that is made from recycled carpet fibers.
WOOD: advantages and disadvantages
Pros:
A variety of wood flooring materials are available today, including hardwoods and softwoods, cork and bamboo, and wood laminate. You can choose from a range of wood stains as well. Wood tends to coordinate with all colors and décor themes, making it very versatile.
A wood floor is easy to clean with a broom and mop. Finishes protect the wood from scratches and wear; if scratches do occur, they can be sanded out occasionally.
Wood flooring is more durable and can be maintained over a longer time, compared to carpeting.
Wood flooring is ideal for those who suffer from allergies or asthma.
According to market research, most home buyers prefer wood floors to carpets. This makes wood a better choice if you want to stay competitive in the seller's market.
Wood flooring is eco-friendly since it is a sustainable, recyclable material.
Cons:
In regions that have high humidity, wood flooring may be difficult to maintain. Wood can expand or contract, causing cracks in the floor. Water spills may cause the wood to warp, and constant sunlight over time can fade the luster of the wood.
If you have children in the house, they are more likely to slip on wood and take a harder fall than they would on the carpet. Wood floors are also vulnerable to stains and scratches from children and pets.
The cost of wood flooring tends to be greater than that of carpet.
Wood floors can make a large room echo, which may be a bother for some people.