Rug Stain Removal
by Guest Post on Feb 14, 2010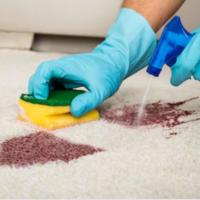 You don't have any idea how that colorless & lifeless spot occurred on your carpet. Well, the first you should do is analyze and clean it. Basically, there are three stages for a substance to become a stain. One is when something is dropped and a carpet soaks the liquid immediately. At this point in time, the stain is fresh and you need to react quickly. Simply pour the best cleaning solution you have and blot it using a white towel. Be careful not to rub the stain, as it could further damage the rug.
The next stage starts when already the stain has made space for itself on your rug. It has become a prominent spot that completely ruins the brilliant looks and becomes an eyesore. At this stage, the stain/ spot is difficult to remove. It is wiser to call for a professional to help. If you have any clue of what could be the cause of the appearance of the spot, then you can also try a home remedy.
Here are some tricks and tips that will help in removing the stain from the rug:
As discussed previously, the fresh rug stain should be removed using a soft and absorbent material like a towel.
If the stain has become a few days older, then scrape away the stain (solid or semi-solid) using a blunt spatula/spoon. But never use a knife as its sharp edges can remove the pile fiber also.
Never ever scrub/brush the stain. These both are hard actions that can adversely affect the fibers and maybe leave a permanent mark on the rug. Hence, it is better to vacuum the stain.
In the market, there are good quality spot removal agents available. But before using anything just test it over the unnoticeable part of the carpet. Read the instructions carefully and follow each step that's there. The simple way to check it is to apply a few drops of the solution and then over it press a clean white towel for not more than 30 seconds. If any color transfer is there or any damage is caused to the rug, don't use it further.
If the cleaning agent works, you are using a home-based remedy, work from inward to outward on the spot. This will prevent the stain from spreading to other parts of the rug. You can carry out this process until and unless the stain is being transferred onto the napkin / white towel you are using. Maybe you would be required to apply the solution quite often.
If successfully you have been able to remove the spill, then rinse the affected area with plain water. But do not use too much water as over-wetting can damage the rug. To remove the solution completely, blot dry the area properly and carefully. For proper blotting, you might use any flat or object and keep changing the towel more recurrently as it becomes saturated.