Cleaning Grout Lines to Look Like New
by Jessica Ackerman on Feb 12, 2010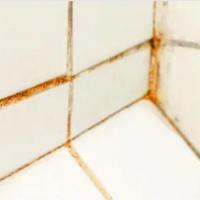 Grout lines are often the arch enemy of a clean tile surface. They quickly collect dirt, can become discolored and, if painted, wear the color off in seemingly no time flat. Whether the tile is on a kitchen backsplash, floor, or counter, cleaning the dirty grout lines can be a chore, especially if the tile covers a large area. Thankfully, there are a few tried and true methods that work to clean grout lines to look like new.
Baking Soda Paste
This environmentally friendly, green cleaning method is a combination of simple, household baking soda and water. Mix 2 1/2 parts baking soda to 1 part water, stir, and create a paste. Spread the paste liberally on the dirty grout lines. Let it sit for about 30 minutes and then scrub the grout with a firm brush. Use a brush that has firm bristles, but those that are not made of metal. After scrubbing, wipe off the counter with a wet cloth to remove any baking soda paste residue. This method of cleaning grout lines usually works best with fresh stains that are relatively light in color.
Steam Cleaning
Although it may seem that steam cleaning is a new fad, it is a great way to clean a tile floor. The steam's pressure can break up stains and caked on particles that traditional methods of cleaning cannot. Steam cleaners work well on all tile surfaces and can often be found in hand-held versions for those hard to reach areas. Always be sure to use distilled water, as regular tap water can cause a build-up of calcium that will cause the steam cleaner to malfunction.
Commercial Cleaners
Commercial cleaners are another option for cleaning dirty grout lines. Shake-on powder cleaners can quickly mix up like baking soda paste and be applied in the same manner. Liquid or gel household cleaners can also make a difference when cleaning grout. Be careful, however, that the products being used do not contain bleach if they are being used on painted grout lines as this will cause them to fade and become discolored.
Professional Strength Cleaners
Most home improvement stores carry specialty, professional-grade tile grout cleaners. These harsh cleaners can quickly erode the grout after repeated use, so use with caution. If there are small children or pets in the home, be careful that the cleaner does not sit on the tile for too long, as the fumes may irritate sensitive eyes and noses. Scrub the tile grout with a stiff brush and be sure to thoroughly wipe the tiles down to remove any cleaner residue.
Cleaning grout lines to look like new is a time-consuming and tedious task. It requires patience and a great deal of time. For large jobs, try breaking the room into sections and work one section at a time. This way the project can be spaced out to accommodate the time available to complete it. Once the tile grout is clean, the room will sparkle and shine and feel like an entirely different space. Protect your clean grout lines by sealing the grout lines as soon as they are dry before they can become stained again. Sealant should be reapplied every two to four years. Targeting "DIY'ers,"