Add an Artistic Touch with a Mosaic Backsplash Tile
by Guest on May 1, 2010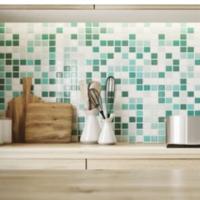 The average kitchen backsplash is fairly boring. While it matches the counter and looks good, it is simply there doing its job, quiet and unassuming. A mosaic backsplash tile can be a statement of the artistic creativity of the kitchen's owner along with making the kitchen the most unique room in the home.
Mosaic tiles, as a rule, are 1" by 1" and can be purchased either individually or in sheets. The sheets will normally come in 12" squares which are easily cut into different shapes and patterns. The sheet backing is made of a nylon mesh which allows it to be glued to the counter or wall with ease and makes handling the small tiles much simpler.
A mosaic backsplash tile can be a work of art when done properly. By using different colors and patterns, images may be brought out in the tile that from a distance can be quite detailed and intricate. Many people have been known to incorporate the family name in the backsplash, uniquely monogramming the kitchen.
These tiles may be found with relative ease on the Internet by conducting a detailed search. Many manufacturers and suppliers maintain websites showcasing their entire line with full-color pictures of the tiles and their many applications. The different colors, patterns, and sizes may be compared and purchased right here along with many of the websites offering shipping discounts on larger orders.
A mosaic tile backsplash can be the most beautiful addition to a kitchen that could be imagined. The ability to mix and match a virtual infinity of colors and styles, give the artist limitless potential for creating a unique look. The ease with which these tiles install makes even the timidest of do-it-yourselfers an old hand at tiling up a backsplash.