Tips to Help You Save Money When You Move Home
by Gregg Titon on Jan 9, 2014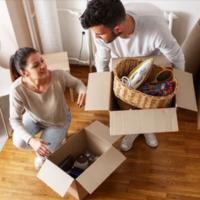 Moving is such a stressful time for many, but being prepared for it can make it seem so much easier.
It can also be a very expensive move if you don't plan ahead, so here are some money-saving tips to help you move efficiently and on the cheap:
Second hand boxes – If you can get your hands on some second-hand boxes from friends and family, then you can box all of your belongings without having to buy more boxes to help you move.
Nearly-new furniture – Brand new furniture is extremely expensive, but nearly new furniture is often really high quality and a fraction of the price. So don't move into your new home and buy new things, buy nearly new. 
Ask friends and family – "Many hands make light work". By getting extra hands from friends and family, the time spent moving will be greatly reduced. Saving time also means saving money.
Removal companies – If you have a lot of stuff that needs to go with you during the move then hiring a removal company could be much more beneficial. If you require a man and van services it is important to book with plenty of time in advance because prices can go up if you leave it too near the time.
Install home energy efficiency measures – Moving into a new home is a great time to install energy efficiency measures to help you save money on your bills each month.
Keep an eye on money in and money out – This is an important tip for every month, but even more so during the move. There are a lot of new bills that go out of your account in the month of your move, so it is good to keep a note of outgoings so you don't end up spending all of your money in one month.
Moving home is a stressful time, not just physically, but financially too, so you must be on top of it all. By doing this, you can end up saving a lot more money than you thought, which could be useful when thinking of decorating.