Care and Cleaning of Marble Floors
by Michigan State University on Apr 27, 2012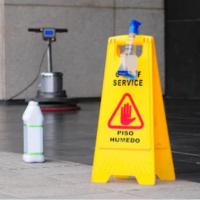 Care
Seal the marble with paste or sealer to prevent stains and soil from being absorbed into the porous surface. Do not let acids contact the marble as they will etch it. Strong alkaline solutions are absorbed by the marble and break down the surface leaving it rough.
Cleaning
If well-sealed, damp-mopping should keep it clean. If soil does not all come off, wash with a solution of mild detergent and water, and rinse thoroughly. Remove stains promptly. Check with a local marble dealer for special cleaners if needed to remove stains. (See Marble Furniture for more on stain removal.)
Marble floors look great when they are brand new and shiny but you must take care of them or they will lose their luster.
Contrary to what most people say, marble floors are not that hard to keep clean and beautiful. You just need to ​protect them from marble etching and follow a few basic steps on a regular basis and you will have beautiful marble floors for a lifetime. Follow the below steps and you will be good to go!
Regularly clean your marble floors with a marble floor cleaner. Do not use ordinary household cleaning products as they may etch your marble and thus remove its shine! 
Use Runners and mats at the entrance and exits of your rooms with marble floors.
Be diligent about regularly cleaning your marble floors. This is huge to help prevent problems down the road!
Apply a Marble Sealer to your marble floor if they do not already have one. This will help prevent stains in the future. If you do not know if you currently have a Marble Sealer, the water test will tell you!
If you have dull spots on your marble surface, see our how to guide to remove marble etching the easy way. 
If your entire marble floor has been dulled then we recommend you contact your local marble professional. They can re-finish the surface for you. We recommend getting a honed surface finish for your marble floors. 
Tips to help preserve your Marble Tiles
Your Marble Tile Floor is a major investment in your home, so follow these tips to help prevent any major issues that will severely damage your investment. 
Check marble tiles on a regular basis to ensure that there are no cracks or uneven tiles. 
If marble tiles are cracked, we recommend contacting your local marble professional to have the tile filled. Cracked tiles can allow dirt and grit to get under the tiles are cause further damage subsequently requiring more repair work and money spent later!
The Marble Institute of America recommends that if marble tiles are uneven then you should contact your local marble professional because floors may need to be ground flat and refinished.