Choosing Hardwood Flooring
by Guest Post on Apr 28, 2012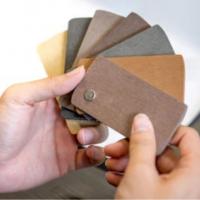 Hardwood is Beautiful!
Hardwood flooring is one of the most elegant floor coverings for your home. It enhances the warmth of any home and complements the decor of any room. The timeless beauty of hardwood is as unique as it is lovely. Like a fine piece of furniture, wood flooring increases the value of your home and becomes more beautiful with time. In a national survey, 90 percent of real estate agents said that homes with wood flooring sell faster and for more money than comparable homes without hardwood.
Hardwood Is Healthy!
Leading allergists agree that wood floors are the perfect choice for a healthy home. Unlike carpet and other flooring options that can trap dust particles (and more) hardwood can be maintained and will not hold nearly as much dust and allergy-causing problems. A very common use for hardwood is to replace bedrooms and living areas where people that live in the home have allergies.
Hardwood Is Diverse!
Wood floors come in three basic styles:
Strip: usually 1-1/2", 2-1/4"(most common), or 3-1/4" widths - Usually ²" thick and random lengths
Plank: usually 3", 4', or 6" widths - Usually ²" thick and random lengths
Parquet: Series of pieces of wood that create a geometric design - Usually 12x12 squares. Most of the floors are tongue and grooved on the sides and end, but in some cases, plank floors may not have end matching. This is something you should know before ordering flooring. Wood flooring comes in many different species, both domestic and imported. The species represent different trees that are found in different parts of the country or the world. One key thing to remember here is that red oak found in Tennessee will not necessarily look the same as red oak grown in Kentucky. Wood that is grown on one side of the hill will have different coloration and other differences from the same tree that is grown on the other side of the hill. The reason that this difference is important is that people need to remember that when you are trying to "match" a wood flooring from one area of your house to another - sometimes it is just not possible to have a perfect match. Staining a floor will help blend floors, but floors with a natural finish will more likely show differences.
Basic Wood Flooring Species
The most common domestic wood species are:
Some of the basic differences are Price, Color, Grain Pattern, and Availability.
American Cherry
Maple
Red Oak
White Oak
Ash The most common imported species are:
Brazilian Cherry
Paduk
Mahogany
Teak
Bamboo
Basic Installation Knowledge
Solid hardwood flooring performs the best over a plywood subfloor, on conventional wood joist construction over a basement or crawlspace. Remember that hardwood is installed with gaps at the edges of the room to allow for future expansion and contraction.
Proper acclimation is a must regardless of species or type of wood flooring. All flooring should be delivered to the area of the house intended to be installed at least 3-5 days before installation. Sometimes people deliver the wood and put it in the garage because that is more convenient than having the wood sit in the house for a week - but that is a huge mistake. Make sure that you acclimate your wood in the areas it will be installed in!
Hardwood floors can be installed and sanded by homeowners if they have been properly taught how to use and operate rental sanding equipment. However, because of the many variables that occur, and the skill required to operate nailing and sanding equipment efficiently, it is recommended that you hire a professional Hardwood Flooring Contractor.
Hardwood will expand and contract in the future and that will show gaps in the wood between the boards which is 100% normal and is expected. Lighter-colored floors will show these gaps far more than medium to dark floors.
You can stain hardwood any color and many East Coast homes have really deep rich colors while the West Coast typically has no stain applied and just puts the coats of finish on the floor. A floor finished without any stain is typically called a natural finish.
The two most common applications of wood finishes include the water-based finish and the solvent-based finish. The solvent-based finish is used in many areas and has a very toxic smell. Do not attempt to go into a house following the application of this kind of finish. Also if you have a solvent-based finish you can not have pets, plants, aquariums, or any other oxygen-based life forms in the house during finishing. A water-base still smells - but it won't kill you. It is less pervasive than solvent and would be considered more earth-friendly.
There are some differences between the finishes color-wise, but both will wear very well.