How to Buy and Use a Compost Tumbler
by Guest Post on May 3, 2012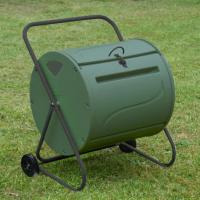 A compost tumbler is an efficient, easy-to-use alternative to a compost bin or open compost pile. Great for urban applications, small spaces, and city gardening, compost tumblers take most of the guesswork and hassle out of making your own 'black gold' soil enhancement while keeping your gardening space tidy and clean at the same time.
An urban compost tumbler is usually made of lightweight PVC plastic and is mounted on a frame that keeps the bin portion up off the ground and enclosed. A locking hatch opens to allow both the addition of fresh material and the extraction of finished compost. Instead of turning the compost with a pitchfork (as you would with an open compost pile), with a tumbler you simply turn a handle or crank to rotate the entire bin and mix the contents inside.
Some compost tumblers are shaped like large round beach balls mounted on a tripod so you can turn the ball by hand without a crank. Others look like closed PVC barrels on a spit with a handle on one end. Most come with instructions that include regular additions of water and microbiotic powders to speed decomposition inside the bin.
Making your own compost is beneficial for many reasons. First, making compost at home reduces the amount of waste in your kitchen and your yard, allowing you to feed vegetable scraps and leaves that you would normally send to the landfill to the compost tumbler instead. It is an ecologically sound practice that reduces the carbon emissions from trash trucks and landfills and makes natural use of natural waste right where it is created.
Secondly, making your own compost saves you money. Compost is one of the most nutrient rich natural plant foods available and one of the best soil amendments in existence. Unlike peat, compost is also a renewable resource. And unlike the treated manure you purchase at garden supply stores, compost is free, easy to make, and you don't need a domestic animal to get it.
Last but by no means least, an urban compost tumbler allows you to incorporate organic farming methods into city gardening. In an era in which everyone is becoming more conscious of food safety and soil and water conservation, learning how to work with nature instead of against her is not just interesting, it's becoming a necessity.
A steady supply of rich dark compost can help a city gardener grow an amazing amount of produce, greens, and flowers in a very small space. The concentrated nutrients in homemade compost allow intensive cultivation of small spaces. A compost tumbler takes up very little space and is safe, clean, and odorless.
Urban compost tumblers come in many different sizes and are widely available online and at garden supply and home improvement stores. Check out the various types and price points and give compost a try. You'll be amazed at the results.