Benefits of Adding Retaining Walls to Your Lawn
by Matt B on Dec 8, 2018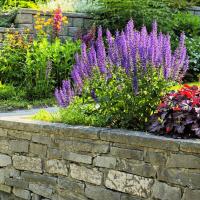 Retaining walls play an integral part in supporting your lawn's foundation and landscape. It can provide both practical and aesthetic value to your home.
In order for a homeowner to achieve these benefits, proper design and installation of retaining walls to your lawn needs to be followed. From the drainage and types of stones and concrete to be used to the design and landscape, a professional retaining wall contractor will surely help you install the retaining walls properly and securely.
Here are some of the reasons why adding retaining walls to your lawn can be beneficial:
1. Control of Water Flow
Retaining walls can help protect your lawn and garden from water torrents. It can prevent flooding following heavy rainfall, and it can help to slow the speed and flow of rainwater, directing the flow of water in the direction you desire. It is so important to move water away from your home in order to maintain a dry property.
2. Creates a Flat Space
This is especially beneficial to areas and homes with steep slope landscapes and inclines where drainage is usually an issue. It can also be used in flat areas of your yard, but are most effective with inclines and slopes. The flat space a retaining wall can bring to your property can allow you to plant a garden, trees or shrubs. All will make you more use of your overall property.
3. Erosion Control
Retaining walls can help your lawn and flower beds be secured from erosion caused by several factors. A professional retaining wall contractor surely knows about interlocking blocks, drainage systems, foundations, boulder walls, block walls, stacked stones, and seat walls, which are crucial to erosion control.
4. Aesthetic Value
Adding retaining walls to your lawn can extremely helpful in making not just your garden and yard be more attractive, but your whole property. If done correctly with the right materials by the right contractor, your retaining will be the envy of your neighbors.
5. Hassle-free Maintenance
Retaining walls require relatively little maintenance mainly due to materials used in construction – stones, boulders, concrete, and even wood that has been treated to resist moisture. Once put in place your wall will last 20+ years, but you have to take time to consider the material and the existing landscape.
6. Several Design Options
With the help of a professional contractor, you can select unique design options for your lawn or garden retaining walls. The most common ones are gravity walls, sheet pile walls, anchored walls, and counter-fort walls. Many will incorporate a drainage system to mitigate water and erosion.
There you have it, 6 reasons to add and enhance the beauty of your property and landscape by selecting the right retaining wall for your needs.