Top Home Exterior Repairs and Projects to Tackle in Spring
by Boris Dzhingarov on Dec 12, 2018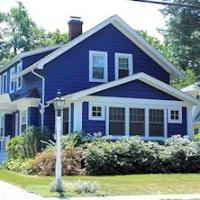 As most of us are buckling down for a long winter season, it may be that your thoughts are elsewhere and you could in fact be looking ahead to next spring. Spring is known for that time of year when homeowners tackle a variety of exterior repairs, renovations, and projects so that the yard is ready to use come to the arrival of the warm weather. If this sounds like something you've been thinking of, then you may want to prepare your "to do" list now so you're ready to get started the minute the weather cooperates.
Unsure of where to start on your to-do list? Here's a look at some of the top exterior projects that homeowners will be tackling in spring 2019.
Replace or Install a Fence
Installing or replacing a fence is a great way to ensure that your yard has privacy. It also provides a sense of security which can be important to those with young kids and pets. You can create an exterior space that is safe for them to play in without having to worry about intruders or kids and pets escaping the yard.
As you start to do your research on fencing, you will quickly come to the realization that there are all kinds of styles and materials used. It really depends on the look you are going for, how much space you need to fence in, and how much privacy you want. Fence supply companies feature some of the more popular options which include ornamental steel fencing, vinyl fencing, and chain link fencing.
Give the Garden an Overhaul
When you first plant your garden, everything looks fresh and new, but over time the garden can start to become overgrown and take on a rather wild look. This means a garden overhaul and some serious pruning could be in order. The overhaul can be as simple or as extensive as is required. Sometimes you will actually need to remove bushes, shrubs, and trees rather than just clip them back.
Cleaning up the garden and clipping everything back will give it a much better look, and it's healthier for the greenery since it will have space to spread out and thrive.
Replace Your Front Door
While everyone is quick to grab a can of paint and give the front door a fresh new look, sometimes a coat of paint just won't cut it. If your door has seen better days, isn't the best quality, is damaged, or doesn't do a very good job at keeping cold/hot air out of the house, then it may be time to install a new one. Choose from wood, steel, or fiberglass and you can even go the route of a customized door if you are willing to splurge.
Create a Lighting Plan
An outdoor lighting plan is a great project to tackle in the spring as it allows you to create areas of interest in the yard, adds to the safety of your yard since there won't be dark areas, helps to ward away intruders, and it allows you to enjoy sitting outdoors even in the evening hours. You can use a variety of lighting such as rope lights, spotlights, garden lights, and anything else that captures your attention.
Each of these projects is sure to transform your exterior and provide you with a great and welcoming space to enjoy all summer long.