Patio Design Tips From The Pros
by Guest Post on Aug 5, 2019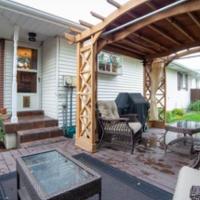 There are many details to consider when designing a patio. Along with determining how the space will be used, you also have to think about your furniture choices, paving materials, and budget.
Fortunately, you don't have to come up with answers to all of these questions on your own. Instead, the experts at Bradstone, one of today's leading manufacturers of landscaping supplies, have put together some tips to make the process of planning your patio easier. These tips will help you get great results regardless of your budget or the size of the finished project.
1. Remember The Purpose Of The Space
When designing the space, consider how it will be used. Are you adding a patio to increase your home's resale value? Do you want a place where you can entertain your friends and loved ones? Thinking about how the space will ultimately be used allows you to make it as functional as possible. Check out this guide, and get ideas on how you want to use your outdoor space.
2. Choose The Right Location
Before doing anything else, figure out where the patio will be placed. Think about the amount of sun that each area of your garden gets during the parts of the day when your patio will get the most use. If your property has amazing views, take that into account when deciding on a location. If you prefer a more private space, consider which areas of your garden offer the most privacy.
3. Decide How Large To Make The Patio
When deciding on a size for your patio, consider how it will be used. If you just plan on kicking back in a lounge chair with a loved one in the evenings, a small space is fine. If you want to use it for outdoor entertaining, however, you may want to create a larger space. Consider the size of the furniture, as well. Create a space that is large enough that you can easily navigate between furniture pieces.
4. Consider Dividing The Space Into Zones
If you want to add zones to your patio, consider creating multiple levels that are separated by stairs. Alternatively, artfully position plants on the patio to create the look of living walls that help separate the space.
5. Infuse The Space With Your Personal Style
Bring your own style into the space, choosing design features that you love. To create a cohesive look, make sure that your patio works well with the architectural style of your home. For instance, if your house is modern, opt for a sleek, paved surface. If it is more traditional, however, consider paving the area with bricks, natural stones, or other classic materials.
6. Determine How Much You Want To Spend
During the initial design phase, set a strict budget and do your best to stick with it. Once you start working on the project, it is easy to overspend if you don't have a predetermined spending limit in mind.
7. Tap Into The Latest Trends
Incorporating some of the latest garden design trends can help you create a cutting-edge space. Sleek, contemporary spaces that are infused with shades of gray and silver are currently quite popular. Using porcelain outdoors is another growing trend. Patios with beautifully-designed concrete surfaces are also right on-trend and can give your outdoor space an industrial look.
8. Address Any Construction Challenges
When building a patio, make sure that the work complies with your local building codes. Consider practical issues like potential drainage problems, obstacles like trees that need to be removed, and how the space will be accessed.
9. Don't Start Until You Have A Plan
Even if you don't want to spend a ton of time planning, at least sketch out your vision on paper. Planning things out ahead of time will not only help you create a space you love but will also help you avoid unnecessary delays.
10. Select Your Materials Wisely
When deciding on materials for the space, research all of your options carefully. Some materials that you may want to consider include porcelain, concrete, and stone. All of these materials have advantages and disadvantages, which is why it is important to learn as much as you can about them.