Glass Tile History
by Guest Post on Aug 4, 2011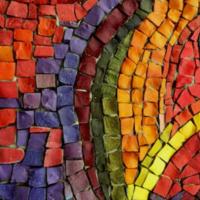 Glass tiles have been present in interior design for centuries, from the second century BC. There was a great demand for mosaic art in this period, contributing to an environment where craftsmen experimented with different materials and processes which lead to the innovation of glass tiles. As mosaic art changed, its presence extended from the Mediterranean by the Roman Empire to the more remote places like the United Kingdom and Constantinople in Turkey.
During this period the mosaics were often used in sacred art to describe religious scenes, as well as geometric temples, and upper-class homes. Rarely used alone, but was usually built into the mosaic to add color and detail to the murals.
Mosaics made exclusively with glass tiles are not common before the rise of the Byzantine Empire. These tiles, known as "smalti" usually had a rougher surface and contains air bubbles and spots of gold and silver. Inspired by Greek and Roman artists, these tiles are used to create mosaics that cover the walls, ceilings, and floors. While artists have produced art, it was most of the work of this period was produced for religious purposes.
Even if the mosaic is still largely from the Middle Ages, the style no longer applies as a popular art form until the Victorian period in 1800. When the industrial age of innovation, tiles, could be produced in a rich. Throughout the twentieth century, Art Nouveau embraced the use of an instrument of art glass. During this period, Tiffany lamps and other stained glass art has become more common.