Five Ways to Spruce up Your Deck
by Guest Post on Feb 8, 2011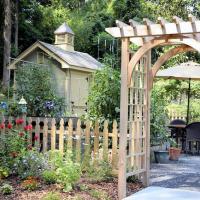 Although the deck has the potential to function as additional square footage to a home, it is all too often neglected or used as a catch-all for miscellaneous items. With a few updates, a tired deck can be made into a stylish extension of the home for entertaining, relaxing, and dining in one space.
If you are ready to spruce up your deck, here are five ideas to get you started:
Refinish and repaint. Repainting or refinishing a deck creates the feeling of a brand new space, and opens the door to changing up colors for a fresh new look. With the use of the right products, refinishing a deck can also extend the life of the wood.
Bring the indoors out. Home decorators often say that outdoor space such as a deck should be an extension of the interior living space in a home. Outdoor furniture, drapes, pillows, and even appliances make it possible to create a personalized outdoor living area that provides the same functionality and comfort as the indoors.
Add planters. Plants bring new life into any indoor or outdoor space. Creating a feeling of nature on your deck will make the space more welcoming and relaxing. Planters can also be strategically positioned to create privacy. The wide variety of plants, pots, and planters available gives you essentially unlimited options for creating a unique space to enjoy.
Enhance the atmosphere with elegant lighting. Lighting is often overlooked as an outdoor design element. When you want to create an inviting space that serves multiple purposes, a single wall-mounted light source will probably not be sufficient. Like indoor spaces, lighting has a major effect on the atmosphere of a deck area. Solar lighting may be a good option since it eliminates the need to run wires to each fixture.
Build a pergola. If your deck does not have a shaded area to relax, socialize and dine, adding a pergola is a great way to enhance its functionality. A pergola may also help protect the wood of the deck from damage caused by UV rays.
Combine these ideas with creativity and a bit of elbow grease, and you will be well on your way of converting a dull deck into an inviting and comfortable outdoor space!