The Advantages of Artificial Grass
by Guest on Dec 31, 2010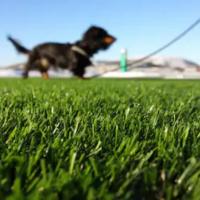 There are a large number of benefits to installing artificial grass of which the reasons for installing are varied.
Obviously, you don't need to spend as much time on the upkeep of an artificial lawn. With fake grass you can simply enjoy sitting out in the sun and enjoying the little sun we get rather than spending that valuable time mowing and trimming your garden. Perfect for busy professionals and families and a lifeline for the elderly who find the upkeep of a lawn too much. Why should you forgo the look and versatility of a lawn all because the maintenance is too much to cope with?
From an environmental point of view, artificial grass has a number of benefits. The biggest being the need not to water. Although most people are very aware of water conservation, the temptation to water a brown, scorched lawn is all too big. It is predicted that hose pipe bans will become more and more frequent as the need for water increases and we have warmer summers. Then there is the fact that artificial lawns require no trimming so the need for petrol or electric lawnmowers is
eradicated saving fuel, emissions, and electricity.
Whether it's on a lawn, on plants, or when growing vegetables, the use of fertilizers is getting less and less. Artificial grass, of course, does not require any fertilizer or chemicals. Mossy grass is a thing of the past.
A reason often not thought of initially but that is becoming more and more common is the use of artificial grass in small gardens. A small yet maintained garden can encounter difficulties in trying to cut the grass with a lawn mower due to the impracticality of such a small area. An edge strimmer has been known to be tried but this looked very uneven and messy. The final straw is by cutting the grass with a pair of hedge cutters but this is frankly quite unreasonable and completely wastes time. Artificial grass is the ideal solution.
Another situation that is occurring more and more now is the appearance of roof terraces. Roof terraces are a much sought-after way of having outside space, in a city especially. The problem is these areas can be dark and concreted. Laying artificial grass creates instant green and most importantly requires no maintenance.
Second homeowners are also on the up and artificial grass is a very useful product for them as well both in the United Kingdom and abroad. Some examples of the benefits are as follows:
Their gardens do not have to be maintained while their properties are rented out or unoccupied.
Some have just wanted the artificial grass around their pool area because it gets muddy with natural grass.
Developers often fit artificial grass outside their show apartments and villas, which has inspired prospective purchasers.
Water is always in short supply, so artificial grass is always more practical in this type of climate.
These are just some of the domestic advantages of artificial grass but commercially there are so many obvious advantages to having virtually a  maintenance-free and durable synthetic surface.