Is a Pergola Right for You?
by Guest Post on Nov 18, 2011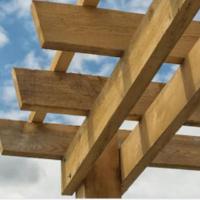 Is your outdoor living space too sunny? If you have moved into a fairly new home it can take some time for the trees to get big enough to provide a little shade from the hot summer sun. Is your pool site too exposed? You might love to relax next to the pool but need a cooler place to sit. Have you considered building a pergola in your yard? You can still enjoy the outdoors even in the heat of summer if you erect a pergola to provide a cool, shady spot in your yard. Pergolas are perfect for any yard or garden.
What is a pergola?
A pergola is a garden structure built of open beams and cross pieces, usually having a vine growing up and over it. These structures can be made of wood or metal. Nowadays, some companies are even manufacturing them in vinyl for ease of maintenance. A vinyl pergola need not be stained or painted regularly and will not rust or rot like wooden or metal structures.
Pergola Designs
When deciding on pergola designs you must figure out what construction material would be appropriate for your home. A more modern home would look best with a metal framed pergola, and a stained wooden pergola would be most appropriate for a rustic home or a cabin. A person who lives in a frame house would likely need to choose a pergola that could be painted a color that would coordinate with the home.
Since pergolas should be considered part of outdoor decor, you should match the pergola style with the exterior embellishments on the home as well. A Victorian style home might need a pergola with a few extra embellishments, while a streamlined modern home would need the simplest of structures.
How People are Using Pergolas
People use pergolas for a variety of activities. Many people simply use the pergola as a comfy place to sit and enjoy the outdoors. Others might attach a swing to their pergola. Some people use a pergola as a nice private niche in which to tuck a hot tub. People with pools may choose to erect a pergola next to the pool. In this way they can keep an eye on the children in the pool without getting too much sun.
DIY Pergolas
A handy homeowner may wish to build the pergola himself. This is a simple project, made even simpler by the availability of pergola kits. Many of these kits come with the wood pre-cut, the holes, pre-drilled, and all of the hardware included. These kits are available in a variety of styles and finishes.
Adding Vines to Pergolas
Your lovely pergola can be made even lovelier by growing vines over the structure. Many homeowners use clematis or wisteria on their pergolas. Relaxing under the pergola can be even more soothing when accompanied by the smell and sight of beautiful flowers. Many homeowners might consider growing grapes or another type of vine fruit on their pergola. However, one must thoroughly consider the ramifications of this decision. Picking fruit off of the very top of an eight-foot pergola might be difficult. If the fruit is not picked it could fall and rot, ruining the peaceful experience of resting in your lovely spot.
Whatever your needs, a pergola could be a simple and useful improvement to your home. They come in various sizes and styles so you are certain to be able to find one that is perfect for your garden.