Creating Unity and Harmony in the Landscape
by Dan Eskelson on Apr 28, 2012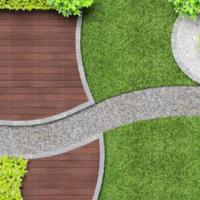 In order to create a landscape that is unified and harmonious, the design concepts discussed previously should be understood and implemented. In addition, an understanding of the following design principles will help tie all your ideas together.
Repetition of a design element helps in the understanding of the composition as a whole - it can bring about a sense of order. By repeating line, form, texture, fragrance, or color, we can establish unity and harmony.
Repetition is important but should be used in moderation so the landscape does not become monotonous. a balance is required between repetition and variety - by varying the design elements of line, form, texture, etc., we introduce a diversity that increases our enjoyment of the landscape.
another principle required for achieving unity is emphasis. Some part(s) of the garden should differ substantially from the whole. By using size or form to create a focal point, interest in the landscape is increased. Most yards will require just one focal point, but larger gardens may require two or more.
another factor to consider when designing a landscape is scale. all the elements of our design should be harmonious in terms of size. That is, one small perennial would be out of place in a landscape of large trees and shrubs...but a massing of similar perennials would contribute significant visual impact and would be in scale with the whole.
One design attribute that is often overlooked is fragrance. The repetition of fragrant plants throughout the landscape can contribute to unity and harmony. Fragrant plants are best appreciated near walkways and patios.