Container Gardening
by Guest Post on Apr 28, 2012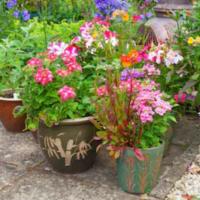 Container gardening can be as simple as putting a potted plant on your porch. But even the simplest garden can become a big mess or a legal nightmare without proper planning. Here are a few things to consider when setting up your containers:
Have good catch basins or other ways of dealing with drainage so water run-off won't annoy your neighbors, or cause stains or damage to your building.
Use existing structures for shade and support. Make sure your balcony, windowsill, or roof can handle what you're going to do on it.
For hanging supports, find a solid beam to put plant hooks into - remember, your plants will get heavier as they grow.
Put rollers under big pots before filling them with plants and soil, so you can move them if you need to.
Give yourself room to get between pots to clean. Make sure you can sweep and even mop around your plants. Inevitably, water will run off and leaves will fall.
Make sure you can get close enough to your plants to water and take care of them.