All You Need to Know About Hot Glue Guns
by Valerie Muscat on Mar 4, 2019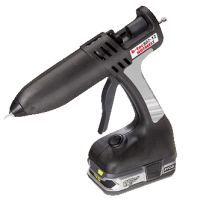 Ask anyone with an interest in arts & crafts projects and they'll tell you hot glue guns are a must have. Self proclaimed DIYers for home repairs also view them as indispensable units—or at least they should.
That's not to say they're only to be used on a small scale as even light & heavy-duty industrials will definitely find them pretty useful. The uses for this device are pretty much endless as we'll quickly discuss below.
Home Uses of Hot Glue Guns
So where best does this unit excel? Aside from arts and glue gun crafts projects you can use it in the following scenarios:
Artificial flower arrangements
A DIY cobbler will definitely find this device useful when repairing shoes
Seamstresses can also use it for those delicate tasks which include repairing missing buttons
Scrapbooking
Attaching decorations to walls or windows
Making embossed patterns on your cards or ornaments
Gluing difficult surfaces for instance polystyrene
It can save you time because it's such a quick solution compared to traditional methods.
Industrial Uses of Glue Guns
As mentioned earlier, glue guns can also be used on a large scale. Here are a few examples.
Product Assembly
When it comes to product assembly, polypropylene is commonly used to bond different parts together, mainly because of how strong and durable it is. However what we must point out is due to its slick nature, it doesn't bond as well to itself. To allow for effective bonding, it needs to be hot melted with a glue gun.
Carton Sealing
For carton sealing using a hot melt adhesive such as a glue gun is faster and more effective than using water based adhesive. A hot glue gun will quickly apply the hot melt adhesive for bonding making it set in as little as two seconds.
Packaging
Forget the old cold glue and long packaging tapes. It's time for an upgrade to a hot glue gun. Not only is it the most effective option but it warms up pretty quickly. Furthermore, it puts out plenty of glue which not only saves you time but reduces hand fatigue.
How to Use a Hot Glue Gun
Before explaining how to use this nifty gadget, how about we explain how it works? Basically it works by allowing you to apply a melted adhesive to practically any material including the following:
Wood
Cloth
Fabric
Metal
Glass
Seven easy steps will be the solution to your future projects:
The first thing you want to do is pick the right gun for the project at hand. These guns are in no way universal in their applications.
We strongly recommend that you familiarise yourself with the manufacturer's instructions regarding product usage. Though the instructions for the devices will be somewhat similar, there are bound to be some variations.
Protect the area you'll be working on because it tends to set quickly: You don't want it to ruin your surface. Covering with a thick piece of cardboard will prevent this.
Insert the glue stick into the opening—as per instructions. You'll find that the hot melt adhesive will dry up very quickly.
Pick up the glue gun, wipe the nozzle and move it to whatever you're gluing.
Compress the trigger slightly so you get the exact amount you need. Practice to control the trigger so you don't end up with large blobs all over the surface.
Finally, you can proceed to glue in a wiping motion.
Useful Tips When Using a Glue Gun
Handling a glue gun needs some extra caution to avoid any unnecessary injuries. We list a few things you may need for protection.
Aluminium Foil
Earlier on we talked about protecting the surface. Aside from placing a cardboard sheet, it would be useful to have a piece of aluminium foil close by to place the gun on when not in use. Chances are hot glue will continue dripping and you don't want that on the wrong place.
Protective Gear
When crafting, it's a good idea to wear long sleeves as well as gloves for added protection. For carpentry work—along with the gloves –you can add some form of eye protection such as goggles. There's a possibility that the glue can splatter so you must take measures against that.
Ice Water
It's advisable to keep a bowl of water within reach especially if you're not wearing gloves during usage. In the unfortunate event that you happen to get melted glue on your skin, you can immerse the area in water to ease the burn before you peel it off.
Hot or Low Temperature Glue Guns: Which is Ideal?
Before discussing which one is better, we'll first point out the main difference which obviously lies in the temperatures:
High Temperature Glue Gun: This type has a of temperature over 300° and as a result it sticks better & ends up giving harder and stronger bondage.
Low Temperature: Operates at approximately 170°.
Moving on to which is ideal, it really depends on the application. But the general rule of thumb is this: A high heat gun is ideal when you're working on either metal or wood. Low temp glue can be used on paper and plastics.
Final Words
This device is pretty useful for a number of glue gun projects as you can see. However, we'll just reiterate the importance of handling it with utmost caution to avoid severe burns. With that said—you have a better DIY option than you've tried so far. Good enough reason to add it to your gear?