How to Find and Hire a Reputable General Contractor Near You
by Maksim Pankov on May 6, 2019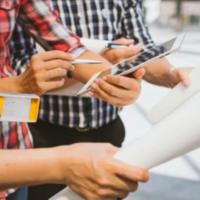 Hiring a general contractor or a renovation company for construction and larger renovation projects is a great idea. But hiring the right one might be tricky if you have never hired any before and you can hardly tell the right situation to hire one or not.
So who are general contractors and what services do they provide?
Who Are General Contractors?
General contractors are responsible for hiring and managing required subcontractors and specialists for construction and renovation projects as well as overseeing the entire project from start to finish. General contractors act as the primary contact between their clients and tradesmen on a project. A general contractor can be a company or an individual and they are hired for commercial and residential projects.
What Services Do General Contractors Provide?
Here's a simple list of the services general contractors offer:
Provides all the necessary and required materials for the project
Applies for building permits if required
Provides site surveying and engineering if required
Keep precise records of all aspects of the job on site
Ensures that safety measures are adhered to at all times
Brings in the knowledge of industry standards and project management expertise
Appropriate disposing or recycling of construction waste
Professional knowledge of building codes and appropriate construction methods – before, during, and after construction
Supplies and manages all personnel on site
Supervises the timeliness and quality of all work carried out
Hire specialists for precise parts of the projects where more detail is required
Oversees schedules, cash flow, and payments
How to Find and Hire the Right General Contractor
The following information can help you make the right decision about how to find and hire the right general contractor for your renovation and construction projects:
Ask Around for Referrals
One of the easiest ways to find the right general contractor is to ask around for referrals. You can start by asking for referrals at the home improvement stores or lumber yards near you.
These stores know many reputable general contractors who always buy top-quality materials and they can easily recommend some of them. Be careful about contractors whom few people have heard of and those who show up at your doorstep offering cheap service. Many of them have been reported to have caused more harm than good.
Reach Out To a Reputable Home Inspector
A reputable home inspector must have recommended several different general contractors to different homeowners depending on their needs. So they can tell which contractor is reliable and which one is not based on their services and the homeowners' feedback.
So reach out to home inspectors in your area and ask for general contractor referrals. This can save you from the trouble of browsing through a phone book to look up hundreds of contractors you hardly know anything about.
Look Up the Contractor Online
A general contractor can be a company or an individual and many general contractor companies have websites. Once you have enough referrals, go online to read reviews about them. If you have the name of the company, search for it on the web with the word "review" behind it. You'll have the opportunity to read the reviews of past clients and homeowners with that each of the contractors has worked for.
Contact Shortlisted Contractors over the Phone
Make a shortlist of the general contractors you'd like to hire based on the referrals you have and their reviews. But you shouldn't invite them to your home right away. Rather, you should conduct a short interview with each of the contractors over the phone. You should ask about the number of years they have been on the job, if they have worked for a corporate company or not, and if they have done any project that is similar to yours in the past.
You should also ask about insurance, licensure, physical office address, and payment requirements. Do not hire a general contractor who only accepts cash or asks you to write a check in their name rather than the business. Asking all these questions will help you to elicit necessary responses to determine if any of the general contractors are worth your money and time.
Meet the General Contractors
After your phone conversations, narrow down the number of contractors on your list to at least three. Now invite each of the general contractors to your home at different times of the day or even on different days. Your gut feeling is part of the screening process and if something doesn't feel right about a contractor do not hire him.
Pay attention to how the contractors respond to your question – if they are hesitant or concise. General contractors who respond concisely are the ones who truly understand their trade. Ask each of the contractors for similar past projects you can see or refer you to previous clients so you can contact them by yourself.
Get at Least 3 Bids on Your Project
Expect each of the general contractors on your shortlist to request your home's floor plans and a list of what you want and need. Now ask each of the contractors to provide a detailed explanation of the entire project – how they intend to start, execute, and complete the job from start to finish.
As soon as you get each of the general contractors' bids, ask each of them to break down their bids into categories so you can easily figure out what you're paying for. These categories should reflect materials, labor, profit as well as miscellaneous costs.
Price Shouldn't Be the Only Thing to Consider
When you get the bids of all three contractors, you'll observe that their prices aren't exactly the same regardless of how similar they are. It's easy to be tempted to hire the contractor with the lowest bid. But price shouldn't be the key thing to consider when hiring a general contractor.
Some contractors only compete with cheap prices because they can't compete in terms of top-quality service and experience. Some haven't worked for a while and are desperate for a new job. Others may intend to use low-quality materials and you'll have to bear the consequences of that as time goes on.
Top-quality general contractors are not cheap, and because a contractor is expensive doesn't mean they are top-quality. So who should you choose? Hire the contractor with the best pedigree – the one with the strongest track record of delivering top-quality work at all times. It doesn't matter if the contractor is the cheapest or the most expensive. But make sure you feel comfortable about working with the contractor in terms of methods, communication, personality, and expertise.
Also, before you sign the deal ask for a lien release from the contractor to protect you if the contractor failed to pay their bills and subcontractors.