Juan Plumbing - Learn about SCAMs
by Guest on Sep 17, 2021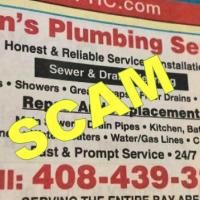 I can firmly say, I'm only trying to be an advocate for a neighbor that is a DISABLED SENIOR who was taken advantage of in this SCAM. I feel the need to expose this thief. The check cleared before I learned how they took advantage of them. They belong to be "haunted" by this forever. There was no invoice, there was no contract, it was a lesson learned that cost a house.
By the time I found out this happened, the check had already cleared, and the upfront CASH I'm reporting to the IRS I'm sure was not reported. Stolen mortgage payment in a nutshell. 
Juan Plumbing Service 408 439 3263 —- NEVER HIRE
http://www.applianceservicesanjose.com/about-us/
-----------------
Watch Out for this Plumber - Thief SCAM Artist.
The quote started at $ 400. Then $1600 and ended up over $3000. The work took less than three hours and a PVC elbow, some digging, and glue. No special tools. Lesson?! They were using an expired license if they had one at all. Juan Plumbing Service 408 439 3263 —- NEVER HIRE!
How do people live with taking people on scams like this?!
applianceservicesanjose.com