Can I Clean My Home's Air Ducts Myself?
by Kurt Schell on Mar 24, 2017

As a DIYer, we love to save money and do things just like the pros do. So what about HVAC systems? Is it possible to clean your air ducts, furnace, and air conditioner just like the professionals do? This is a common question that we get frequently, so let's go over what you can and maybe can't do quite as well as a professional with specialized equipment.
But, before we get started, let's take a quick moment to discuss the benefits of cleaning your HVAC system.
I. Allergen reduction.
In addition to dust, other allergens like pollen, mildew, pet dander, and bacteria also accumulate in the air ducts.
II. Eradicates odors and smells.
Air ducts are likely to accumulate odors and smell from pets, cleaning agents, mold, smoke, and even food preparations over time.
III. Contributes to a better flow of air.
Due to the prolonged accumulation of contaminants, it may become hard to have a good flow of air through the ducts.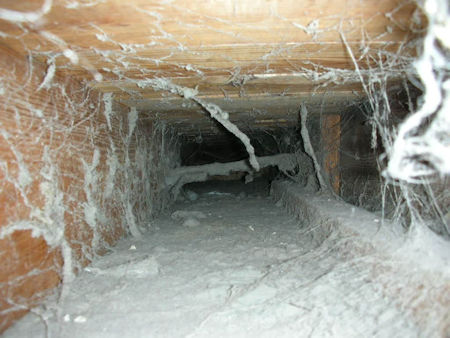 Can I just use a shop vac?
We all love our shop vac, it's that noisy powerful vacuum that never complains about what you task it with picking up. In fact, my wife loves it so much I can find her using it throughout the house. But let's be clear about exactly what a shop vac is, and isn't. It's just a vacuum cleaner. The main benefit of a shop vac over a standard vacuum is the size of the tube and the uninterrupted sucking that it produces. It can also be used on both wet and dry stuff. It picks up fine dust, sawdust as well as larger items as nails and screws. So it does a reasonably good job of cleaning your home's vents.
However, one major limitation with a shop vac, or any consumer vacuum is its limited range. So while it will have no problem cleaning the immediate dirt and debris from your vents, it is incapable of traveling through your actual ductwork and doing a thorough cleaning job.
There is also more to cleaning your HVAC system then simply cleaning out vents. And while you may not be able to get all the dirt, debris, and allergens out of your ductwork without some specialized equipment, you can still do a couple of other important maintenance tasks that will improve the indoor air quality of your home.
Clean or change your Air Filters
Having clean air in your house depends greatly on how efficient the filter is. Air filters can either be washable or disposable. The washable filters are the only ones that are meant to be cleaned and reused in the home. As a safety measure, it's always good to ensure that the system is turned off before and when cleaning the filters is in progress. How often you clean your home's air filters will depend on several factors. If you have pets in the home or smoke, or if you suffer from allergies then you'd want to frequently examine your home's air filter and determine how quickly it is becoming restricted due to contaminates. Manufacturers generally recommend cleaning or replacing your air filter every 3 months. It's a quick and easy job, so this is definitely one that you can do yourself, and your handy-dandy shop vac will do well with cleaning a reusable air filter.
Yes, you can Clean Your Furnace!
I know it can appear intimidating, but that noisy fire breathing tower of aluminum in your garage can be serviced by the homeowner. Cleaning the furnace can also help when cleaning air ducts. The furnace collects dust, pollen, and debris, which are allergens that could trigger asthma and other diseases. Furnace filters, like return air filters, can be disposable or permanent. Disposable filters require regular replacement while the permanent ones should be cleaned regularly. It is also common for your furnace to not have an air filter, so don't be surprised if you can't find one in your system.
Before carrying out any cleaning, the system should be completely turned off at the breaker. Then you can remove the front access panels on your furnace and use your shop vac to suck out dust that has collected over time. If you want to do an extra thorough job you can remove the blower and clean it as well. We find it is very useful to use something like a feather duster to help dislodge dust and other particles from the furnace while vacuuming it.
Why would I hire a professional air duct cleaner?
I get it, on the surface, it seems like all you need is a shop vac and a new air filter, but your home also has dozens of feet of ductwork that you simply cannot access without special equipment. And sadly, the instant you turn that furnace back on and the air starts blowing through your home again, that dust is going to be re-circulated. So while a DIY duct cleaning will improve the air quality marginally, to get a complete cleaning and all the benefits of that you'd need to get into the ducts and clean them as well. Additionally, not everyone is comfortable with cleaning their furnace or air conditioner. It can be intimidating and even dangerous if you don't know what you are doing.
What does a professional do differently?
There are two distinct advantages that a professional has over a DIYer. 1) Experience, and 2) Equipment. The experience is obvious, they not only know how to properly clean your system, they will do it right without breaking anything in the process. But in this day and age with Youtube videos, any of us can watch a few videos and if we're careful can do things "right". But, without the proper equipment, you'll never be able to do it as well.
The best air duct cleaning companies will use the best equipment. This means a truck-mounted power vac system. Think of the power vac like a big truck-sized shop vac. It uses the truck's engine to power the vacuum, and it produces an incredible amount of suction.
They will hook up their power vac truck to your duct system and close off all of the vents to produce a vacuum within your ductwork. Then they will go to each of your vents or return air registers and send an internal duct cleaning device through the actual ducts of your home. The device is a floppy hose hooked up to an air compressor. So it will flop around knocking dust and debris from the surfaces of your ductwork while simultaneously blowing it towards the waiting vacuum. This combined with the suction being generated by the power vac truck will pull that dust and debris directly out of your ductwork and into the power vac truck's vacuum bags. The result is a superior cleaning job and no mess in your house.
In conclusion, the cleaning of air ducts is an important task that should be carried out regularly. Whether it is done professionally or you do it yourself, carefulness should be observed to ensure that no damage is done on the machine. The frequency of cleaning air ducts will be determined by how fast contaminants accumulate on the surfaces. Effective air duct cleaning contributes to a clean home with healthy people.