5 Things to Consider with Air Conditioning Installation
by Sally Smith on May 11, 2017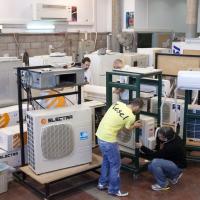 Ensuring that your home remains comfortable during both the hot and cold seasons is essential for the smooth daily functioning of the family. This calls for the installation of an efficient air conditioning unit in the home for your family to reap the maximum benefits of climate control. An air conditioning unit installation is a complex process that requires the assistance of professional, experienced, and fully accredited air conditioning installers who can help you find an air conditioning system and brand that suits your needs. Despite the fact that this is a process that should be handled by professional AC installers, a homeowner has to consider a number of important factors prior to the installation. Here are some of the important considerations that you should look into before hiring the services of an AC technician to install your air conditioner at home.
Cost
Cost is a huge concern nowadays due to the harsh economy. In order to get the most from your buck, you must ask yourself the all-important question: how much does air conditioning cost? You will then proceed to enquire and research widely in order to get an accurate estimate of how much the AC installation will cost. Although the initial air conditioner installation process is costly, it will prove to be a worthwhile investment in the long term.
You should also factor in the costs associated with HVAC maintenance as well as air conditioning repair service in order to make an informed decision when choosing the most suitable AC. If you have an existing AC unit that is malfunctioning, it would be economical to compare and contrast between the cost to replace the air conditioner or repair it. If the cost of repairing it outweighs or is almost the cost of buying a new unit, then it would be wise to replace it altogether.
SEER (Seasonal Energy Efficiency Ratio) Ratings
SEER ratings are used for evaluating the energy efficiency of a particular AC unit. This rating is calculated by considering the cooling output of an AC unit in a certain cooling period and dividing it by the total amount of electricity consumed. The higher the SEER rating of an AC unit, the more energy-efficient it will be. It would be wise to purchase a unit with higher SEER ratings in order to benefit from the huge savings you will stand to make on the overall home energy costs.
Size
Your air conditioner sizing ought to be carefully considered as it is a key determinant of the level of comfort, longevity, and efficiency you get. It is crucial to get the right size of an AC Unit in your home. You should seek the opinion of a professional on the right size of an air conditioner unit to install in your house to efficiently cover the whole space. This will ensure you do not get an oversized unit that cools the air rapidly without dehumidifying it. It will also guard you against ending up with a small unit that will be forced to run constantly in order to cool the house well thereby increasing the energy bills and lead to premature wearing out.
Installing a Highly-Efficient Filter
When planning to install your central AC unit, you should not forget to include a highly efficient filter to your system. The filter will play an important role as it cleans the air moving through the AC system thereby reducing the amount of dust and pollen present in the air released into your home. The filter will help in keeping the internal components of your AC efficient and clean. Although the filter will add a few units on the installation cost, it will greatly reduce the costs of HVAC maintenance. It will also eradicate the need to look for ways on how to clean air conditioner or hire a professional to clean it.
Ductwork
A good ductwork forms an important part of your cooling system at home. All duct joints and seams ought to be sealed well as any leaks will slow down the cooling process and negatively impact the energy efficiency of your home. You should bring in a professional to inspect your ductwork and give it a clean bill of health before bringing in your air conditioner.
Final Words
After taking into account all the above important considerations when planning to buy and install an AC unit, remember to work with accredited air conditioning installers during the actual installation. Installing an AC unit in your home not only guarantees great comfort during both hot and cold seasons but also increases the value of your home. Ensure you consider all the above five factors and research widely in order to have your air conditioner installed in the most professional way that will not void its warranty.