Keeping Cool on a Budget When It is Hot
by Guest Post on Aug 3, 2010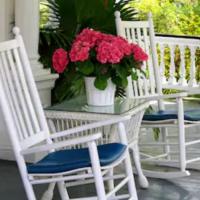 Keeping cool when the temps get hot can be tough—especially if you're on a budget. Maybe you can't afford to install central air. Perhaps you can't afford to run the air conditioner you have. Never fear. When it comes to staying cool, there are plenty of effective options that won't put you in the poorhouse. In fact, all you need to stay cool and comfy during a sweltering summer is your favorite patio rocker and one of these stay cool strategies:
Fan Fanatic
The fan is one of the simplest and most convenient ways to stay cool when the mercury's on the rise. When it's pointed in the right spot, a fan can go a long way toward making you feel comfortable—whether you're inside or outside.
But are you getting the maximum benefit from that chill breeze? The best way to utilize a fan is to use it to push the warm air out of the house. Place a fan so the blades blow the air outside. Then open the doors and windows to generate a flow of air that pulls that warmth through the fan blades and out of the house. The result is a lower temperature and a comfy breeze.
Fans are also an ideal solution for cooling down while outdoors. Imagine the breezy relaxation of a ceiling fan installed on a porch or pergola roof. Or you might try a free-standing fan that incorporates a misting system to provide an extra boost of cool. All you need to complete the scene is a white rocking chair and a tall glass of lemonade.
Get all misty
Getting misty isn't just for greeting card commercials. Water misters are an ideal solution for cooling down in the great outdoors. These systems are fairly easy to install and they're also affordable—making them a perfect choice if you're budget conscious. A simple kit is enough to cool down a small patio, while more elaborate systems are available for cooling entire backyards.
Misting systems come in a variety of styles. Consider a portable system if you find yourself roaming the yard for shade, or you might want a permanent system, which operates much like a sprinkler. Sites like coolingline.com and rapidcool.com provide misting systems to suit any need.
Shady situations
Shade is a natural, low-cost solution to overly hot days. Find shade under a covered patio or large shade tree. Not possible you say? Never fear! Enjoy the lower temps provided by the shade of a portable umbrella (yes, even a regular old rain umbrella will work) or a shade canopy.
Shade isn't just for staying cool on the lawn either. Awnings are an ideal stay-cool solution for your home or patio. In addition to providing relieving shade, awnings will also protect furniture, including your favorite outdoor rocker, from fading.
Be childish
Get in touch with your inner child by indulging in a kiddie pool. It was cheap. It's cool. And it's fun, too. Pools fit nearly anywhere, as well, making them a versatile solution. Add one to your porch, patio, or lawn. Place a low lounge-type chair in the water so you can enjoy the cold water. If sitting in a pint-sized pool isn't your style, simply put the chair next to the water and dip your feet for instant relief.
Sprinkle assistance
Your lawn benefits from the coolness of a sprinkler—why shouldn't you? Set up your beach or water-resistant chair in a shady spot and let the water mist over you. The water will evaporate, providing a much-needed respite from high temperatures.
Drink it up
No, we're not talking about your favorite margarita. Drinking water is a surefire way to battle the rising mercury. As the body sweats to stay cool, it loses a great deal of water. Replace it by carrying a full bottle of water—something you can sip all day long. Remember, not all fluids hydrate your system. Drinks with caffeine can actually dehydrate the body, making it less able to cool itself off.
Take it easy
You might want to take it easy on hot, summer days, but do you actually do it? The fact is that moving at a slower, more relaxed pace can actually help keep your body cool. Take frequent breaks in a rocker or lounge chair nestled in the shade of a big, leafy tree. Amp up the coolness factor by placing a damp cold cloth on your forehead. Simply add a mister bottle of cold water to spritz onto your skin, and you're ready for instant relaxation.
Don't let summer heat beat down on you. By following these strategies, you'll soon find yourself cooler and comfier—without putting yourself in the poorhouse.