5 Ways to Know it is Time for Expert HVAC Repair
by Chase Roberts on Dec 4, 2019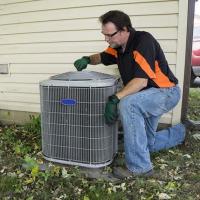 Your home is outfitted with some type of heating and cooling system. When things go wrong, you need to know what you can do on your own, and when it's time to hire an expert for HVAC repair.
While most homeowners can handle some general maintenance like replacing a filter, there are signs to watch out for that require an expert repair company.
Here's what to watch out for if your HVAC is failing:
If you hear any odd noises coming from your unit. If there is an odor present. When you're not getting the proper airflow. When your systems are continually shutting down. If your energy bills are consistently going up.
HVAC Repair Experts Can Evaluate and Correct Unusual Noises
Modern, efficient, and effective heating and cooling systems should run almost silently. When you hear whistling, rattling, squealing, or knocking during operation, there's likely a problem. You can inspect the system yourself, but chances are you don't know much about the components inside your air conditioner or furnace. By opening it up, you're putting your safety and the safety of anyone living with you at risk. It's better to let an expert HVAC repair contractor take care of it. They know how to properly work with all the electrical features and other parts so that no accidents or injuries occur. 
An HVAC Repair Company Will Determine Where Odors Are Coming From
When an air conditioning unit or heating system is working correctly, you shouldn't be able to smell it. If there is an unpleasant odor emitted when either is turned on, something is wrong. It could be something as simple as a filter that needs to be replaced. If yours is older than three months, replace it first. If the odor goes away, then you fixed the problem. However, if the smell is still there, you could be looking at a more significant issue.
You might have mold growing, a damaged air duct, or a clogged drainpipe. Each of these situations will require a thorough cleaning of the unit. An expert HVAC repair technician knows what to look for. By doing it yourself, you could end up spending hours or even days trying to figure out where the smell is coming from. If you aren't sure what you're looking for, it could all be for nothing because you won't be able to find it, much less correct it.
Improper Airflow Warrants a Call to an HVAC Repair Company Near You
Clogs, blockages, and leaks can all lead to a decrease in the airflow of your heating and cooling systems. These are very intricate parts of your home, and there's more to them than what you might think. A qualified HVAC repair technician has experience in airflow issues. They can follow a process that's more efficient than what you can do. Even after watching video tutorials or asking around, you can still miss what the problem is. Instead of wasting your time trying to save a few bucks and correct it yourself, an HVAC repair expert will take care of it quickly. Not only are you saving time, but you can have peace of mind that the situation was handled properly. You won't be dealing with other issues right away.
A Heating or Cooling System Break Down Requires Expert HVAC Repairs
You come home to discover that your system isn't working at all. It's common for homeowners to go to the heater or air conditioner to see what's happening. However, the chances that you can fix a completely broken unit on your own aren't very good. Even if you do get it operational again, if you haven't done the HVAC repair correctly, it's only going to break down again.
If you don't want to have to continually call an HVAC company to work on a system that frequently shuts down, regular HVAC maintenance is recommended. By having a professional come in and inspect your equipment routinely, any minor issues or potential problems can be taken care of on the spot. Then your systems will run efficiently for longer, and you won't be paying more than you have to for HVAC repairs.
Energy Bills Will Lower With An Expert HVAC Repair Contractor's Services
Have you noticed that your energy bills keep going up every month? The temperatures haven't changed from what they usually are, so there's no reason to see an increase. A spike in your charges is a good indicator that there's something wrong with your HVAC system. You don't necessarily have to see, smell, or hear the problem either. Many times your unit will have something wrong with it, but it will work harder to keep up with your desired temperatures. That requires more energy use. The only way to know is by keeping an eye on the utility bills you get. To prevent paying the higher costs, an HVAC repair technician can diagnose anything that might not be operating correctly.
Hiring an HVAC Repair Company Near You
After recognizing that any of these issues are occurring, now you have to find an HVAC professional company. Before calling the first name that pops up in the phonebook, take a few minutes and make sure they are someone you want in your home. Not all HVAC companies are the same, and you should never only consider one resource when determining the right one for you.
First of all, look at their credentials to make sure everything is up to date. That tells you that they are a company that continues their education in the industry and values providing quality work. Check for licenses required in your state and inquire about liability insurance coverage.
Ask around for references or look for reviews online. If they have been able to satisfy previous customers, you can expect the same kind of service for your required HVAC repair. Stay away from any that can't provide you with this information. They likely are trying to cover something up, or they don't have the experience you want.
Finally, ask them for an estimate. Many HVAC repair companies will provide these at no cost. Get a quote from several different businesses before choosing one. That way, you can see if anyone is trying to take advantage of you with extremely high rates. Cheap estimates are a sign they aren't a quality company. Check the standard prices in your area and select the HVAC repair contractor that is in line with what's normal.