Common Home Plumbing Issues and How to Fix Them
by Boris Dzhingarov on Jan 24, 2020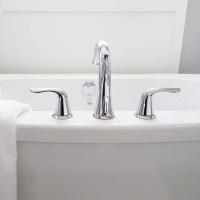 Plumbing problems are an unavoidable part of being a homeowner. Sooner or later, you are going to have to deal with a clogged drain or sink. Below are some common plumbing issues and what you need to do to solve them quickly.
Low Water Pressure
We are all so used to having running water on demand that an interruption to our supply often leads to significant headaches. Low water pressure is one of the most common plumbing complaints from homeowners, but fortunately, it is usually easy to fix.
The first thing you need to do is to ascertain whether the problem is affecting both your hot and cold water. If the pressure is low for both then the most likely culprit is your aerator. You can easily fix a blocked aerator; you simply need to remove it and clear it of any debris before replacing it.
Slow-Draining Sink
Another very common plumbing issue is a sink that just doesn't want to drain properly. Over time it is easy for a significant amount of debris to accumulate and prevent water from flowing freely down the sink. To restore the flow, you need to clear your sink of any debris.
Check what material is used for your sink and then find a powerful drain cleaner that is suitable for your sink. Be careful about pouring powerful bleach into any sink without first checking that it isn't going to react badly with the sink itself.
Slow-Draining Tubs
This is another very common plumbing problem, any tub is susceptible to issues with draining over time. If your whole family has to share a single bathroom, it won't take long for hair to build up and slow down the rate at which water can drain from your tub.
A pair of needle-nose pliers works well for clearing out any debris that is near the entrance to your drain. If your top has a stopper on it, then you might find it helpful to remove this before you begin cleaning. If it's easy to remove your tub stopper then regular cleaning is a good idea.
Jammed Garbage Disposal
Our garbage disposals get put through their paces over the average week. A jammed garbage disposal is a very common plumbing issue, and fortunately, it is one of the easier ones to solve. Most garbage disposals come with a nifty key that can be used to help unjam the unit. However, these keys are easy to lose.
You can use a standard quarter-inch Allen wrench to unjam a garbage disposal; you simply need to insert the wrench into the opening at the bottom of the disposal and then turn it in both directions to free the motor. Once the motor has been cleaned, you can put the unit back together and continue using it as normal.
More Complicated Issues
While these issues are easy to solve, not all plumbing issues are. It is a good idea to have a professional plumber on speed dial at all times to help you deal with more complicated problems. Some plumbing issues need to be solved immediately, and you don't want to have to waste time looking for someone to come and fix your issue.
Once you have solved a few plumbing issues around the home, you will realize how easy most of them are to fix. Don't be afraid of common plumbing issues, as long as you have a plan for solving them, there is nothing to fear.