Getting the Most Out of Your Air Conditioning
by Guest on May 15, 2012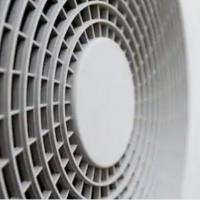 A technical subject like this can get a little boring, to say the least. But, I urge you to read this Special Report completely. By doing so you will have a better understanding of a very expensive, and very important, machine in your home or business!
There are five basic things that you can do to monitor and service the inside of the air handler or furnace, the blower, the evaporator coil, the condensate pan and drain, and of course your A/C filter.
On the blower motor, there are usually 2 oil ports for the motor bearings. These ports are on the extreme outer edges of the motor body. Most manufacturers recommend that the motor be oiled once a year with each oil port receiving 10-15 drops of lightweight electric motor oil.
Inspect the blower motor fan blade to see that the blades are free of mold and/or mildew buildup. The air handler provides a cool, damp environment for the development of molds and mildew and if left untreated these growths can spread into your ductwork.
If heavy buildup is present then you should call your A/C Contractor for treatment and removal. If only moderate to light buildup is present then there are chemical disinfectants specifically designed for use in air handlers that will kill the existing mold and mildew and control new growth. These disinfectants are safe and very effective and are applied by simply spraying into the filter intake.
If the coil has mold or mildew present then it also should be treated. Make sure that the face of the cooling or evaporator coil is clean so that air can pass through freely. The coil can easily become clogged when the filter is not changed regularly. To clean the coil, first, spray with "Blast-A-Coil Cleaner, then use a long bristle wire brush and start from top to bottom with long strokes and brushing in the direction of the coil fins only, use a vacuum hose to remove the loosened debris.
Air conditioning systems not only cool but also remove humidity from the air. This humidity condenses in the cooling coil and then goes out a drain line to the outside of the building. Be sure to keep your condensate drain pan and drain line clean. Condensate drain backup is the biggest problem encountered with air conditioning systems.
Mold, mildew, and algae build up in the condensate drain pan and drain line until water spills out of your furnace or air handler. These can be quite substantial amounts of water which can cause damage to the system's controls and to the structure of the home, such as ceilings, drywall, rugs, etc. To kill and control algae, mildew, and mold in your condensate drain pan and drain line you can place "Algae Strips" in the condensate pan.
Clean or change filters every 30 days. Putting an anti-microbial electrostatic filter in your system is one of the best things you can do for your system. This is very important to protect your system and to keep the air you breathe in your home fresh and clean.
And finally, you can monitor the condition of your system by inserting a stem-type thermometer in the supply duct and checking the temperature every one or two weeks, or if you feel something is wrong. The supply duct temperature should be 17 to 22 degrees cooler than the air inside the home.
These simple cleaning and maintenance techniques will improve your units cooling capability and improve your breathable air quality, plus you will need fewer repairs.