Interior Design Ideas
by Guest Post on May 15, 2019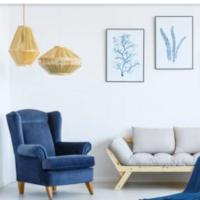 If you're looking to revamp your home, there are inexpensive and effective ways to do that.
Mirrors work- everyone knows that the addition of a mirror can make a small room look larger in size. Place one on the wall of your dining room- it will not only create a sense of space but will also act as a good talking point, bringing with it, dimension and depth. In fact, certain decorative mirrors can also double up as a work of art. Hang them on your walls for an interesting accent. If you need more light, mirrors can do that too- put it right across your window and see the increase in brightness.
Change the upholstery- your old couch works perfectly well, but the fabric has seen better days. Don't throw the couch out or replace it; get new fabric instead. Slipcovers and couch covers can dramatically change the appearance of a room. If you're unsure about going down the slipcovers path, try a throw rug or an afghan draped over the back of the sofa for a quick new look.
The same goes for cushion covers and curtains. Think about different colors and patterns to create a harmonious blend. Either they can all follow a single color palette, or they can be a congenial mingling of different hues.
Raid the family shelves- if you have access to the family storage unit, go see what you can find there. Vintage will never go out of style- maybe an old rug can make for wall art, perhaps some traveling trunks can add seating to a living room, and there may even be bric-a-brac from your grandparents' time that may fit right in. Work with what you have, instead of going out to get new stuff.
Pay attention to the floor- interior decoration is all about improving or enhancing the entire look of a room. You can make or break a room by how neat the floor is. Chipped, uneven, or discolored tiles can bring a room down.  A smart way to add pizazz to a room is to use Spanish tiles. As the name suggests, these Spanish tiles use vibrant Spanish and Mexican designs to liven up your floor space. Gorgeous glazed surfaces and complex geometric patterns are sure to bring beauty to a room. Bring home a tradition that dates back centuries, without breaking the bank.
Another option for flooring is. This is a great way to bring together your design sensibility and environmental consciousness because you're basically using recycled tiles. Colors range from deep red to mild yellow and every shade in between. These reclaimed terracotta tiles by their very nature are unique- your floor is sure to be one of a kind. Both these tiles warm up a room instantly, adding to the charm of the house.
A theme helps- interior design often follows a theme but doesn't stick by it too rigidly. Give yourself some wriggle room and see where your design ideas take you. Follow a general idea and mix and match for dramatic effect.